5x100 VR6 widetrack conversion
Details

Category: mk2 1.8T
Published: Friday, 15 August 2014 16:18
Hits: 13537
Hello all!
Quite a long period of time is in the past since the last topic. Now it's summer and liar of damned Golfs is not so busy, but steadily moving forward. Ofcourse the main subject of 20vt.lt is a Syncro mk2 and will stay at least two upcoming years, but I can't forget my blue 20vT surely. About a year ago I started to gather all of the requisite parts to convert PCD from 4x100 to 5x100. Talking of it, transition to 5x100 is only a visual distinction when finished, but actually it brings some extras more..
I would like to start from part list I did use for conversion:
mk3 Golf VR6/GTI front wishbones;
mk3 Golf VR6/GTI front hubs (spindles);
mk3 Golf VR6/GTI outer CV and half-axles;
mk3 Golf steering column inner tie rods (from non PAS model as these appear to be longer);
mk3 Golf VR6/GTI 288x22mm front disc brakes;
mk3 Golf VR6/GTI rear disc brakes;
mk3 Golf VR6/GTI front anti roll bar;
mk3 Golf VR6/GTI front anti roll bar linkages;
mk3 Golf VR6/GTI engine's subframe;
mk3 Golf VR6/GTI lower hub ball joint;
Audi A3/S3/TT or VW Golf mk3/mk4 calipers and carriers (you can choose any of it, I have used Audi A3 1.8T fronts)
The list's not so short, but the grand merit is that all these parts are easy to obtain since they came as an OEM. Non-oemish are only polyurethane bushings and inserts. 
Hereafter you may find the list of parts and tasks to be done being as non final :D Depends on your attitude! In my case I did something more:
Sandblasted calipers and carriers, repainted in yellow, assembled with new parts;
Repainted wishbones;
Repainted half-axles;
Repainted hubs;
Repainted ARB;
Removed PAS;
Steering rack polybushed;
Installation of KW V2 coilovers;
BBS RN016 rims with 195/45 R16 tyres;
Motul RBF660 DOT4 racing brake fluid. 
New parts came in also:
Front brake pads;
Rear brake pads;
Front brake rotors;
Front SS braided brake hoses;
Steering rack boots;
Steering rack polyurethane inserts;
Inner and Outer CV boots.
A few pics to visualise a final result:
Carriers&calipers, brake hoses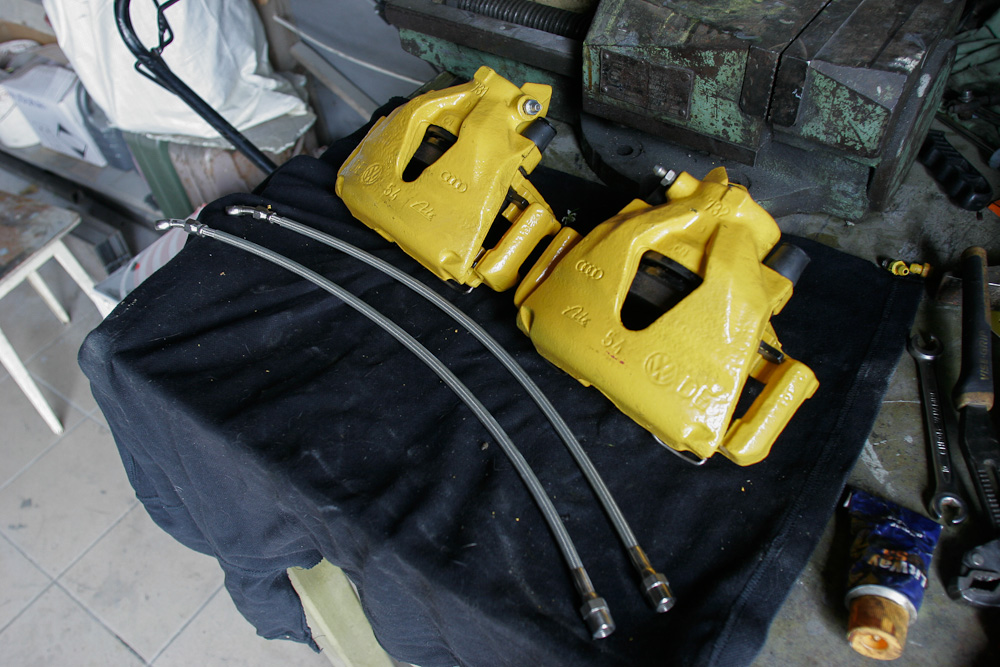 Brake discs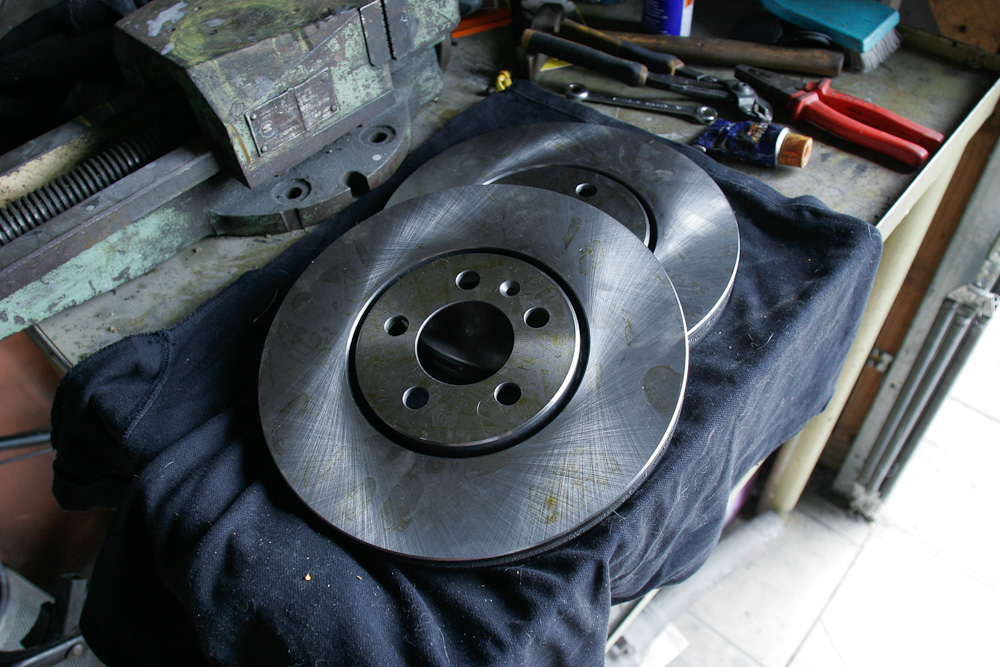 Removing engines subframe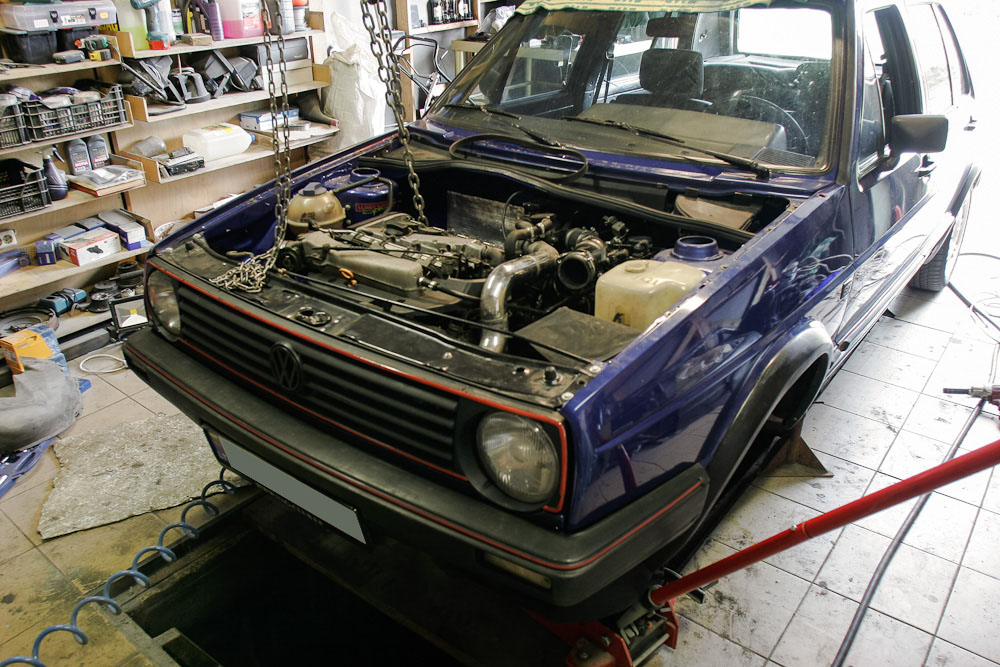 PAS removed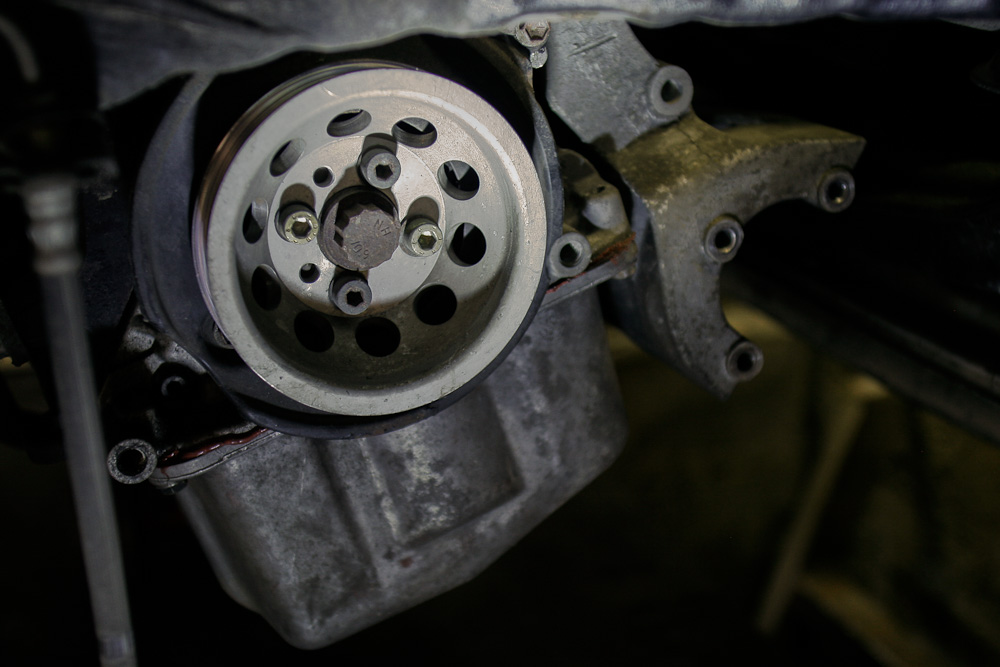 Non-PAS steering rack polybushed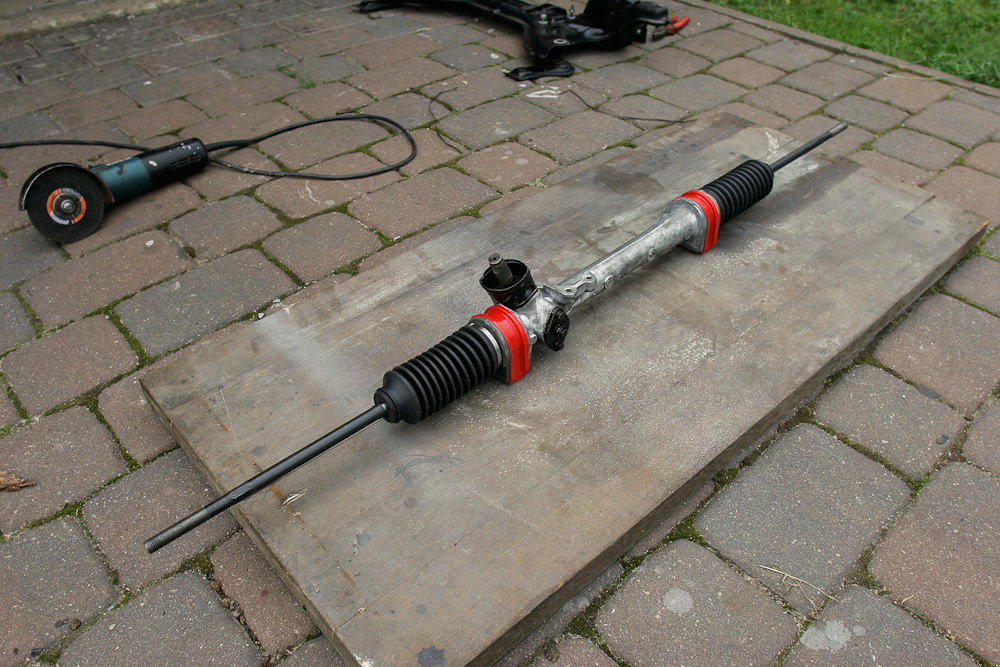 Both halfaxles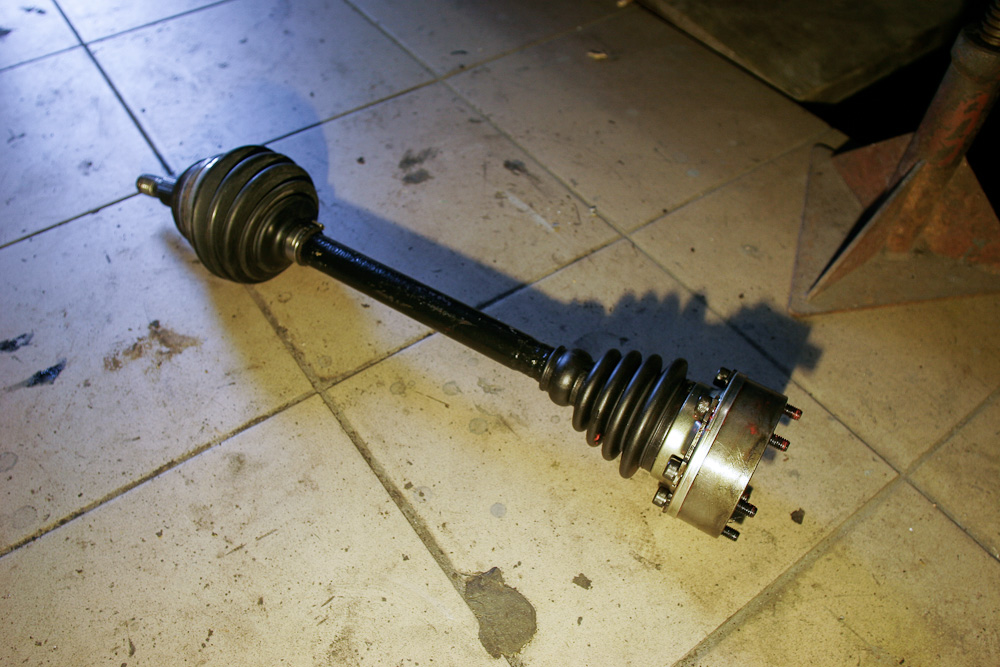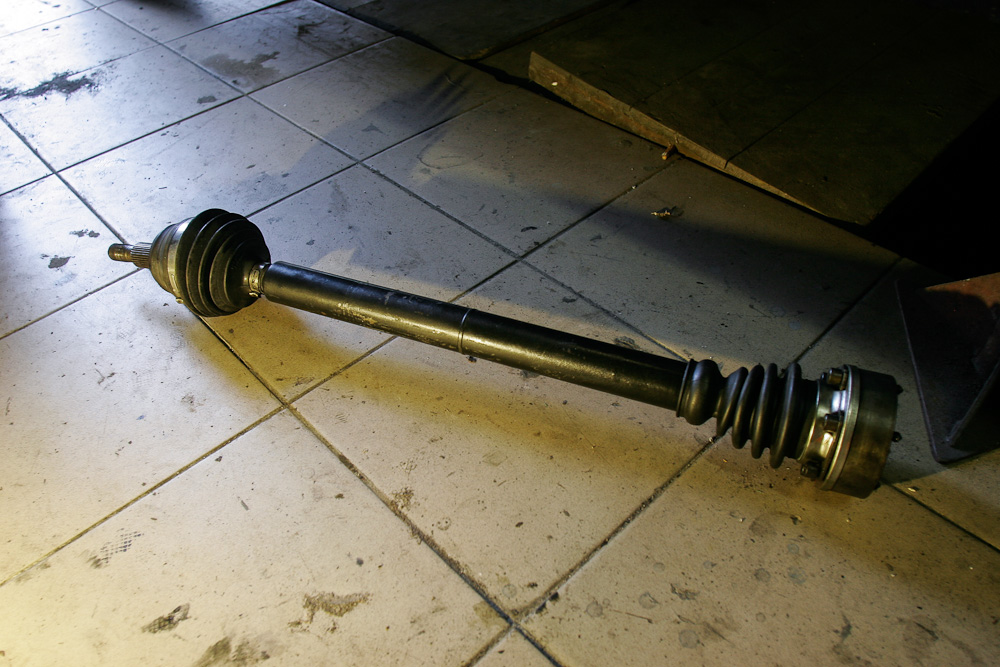 Alltogether ready to fit back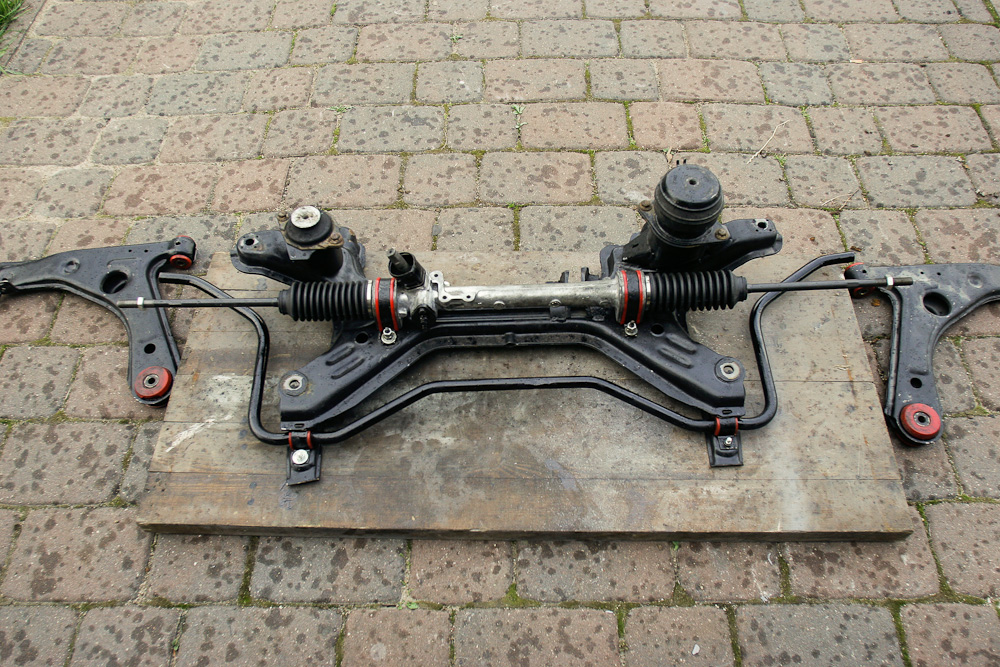 Poorly looking KW's but perfectly working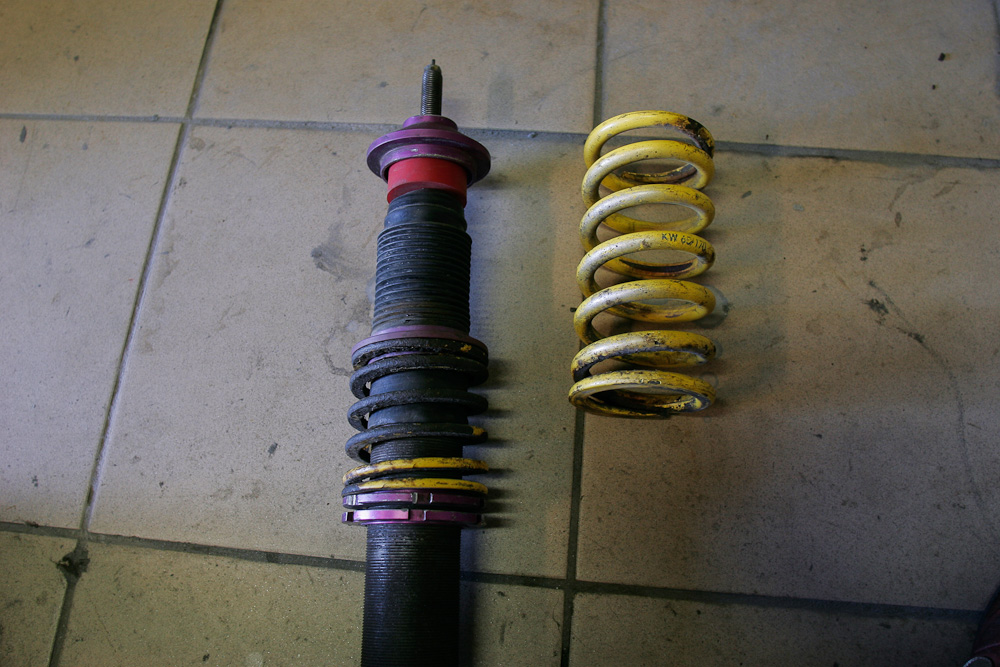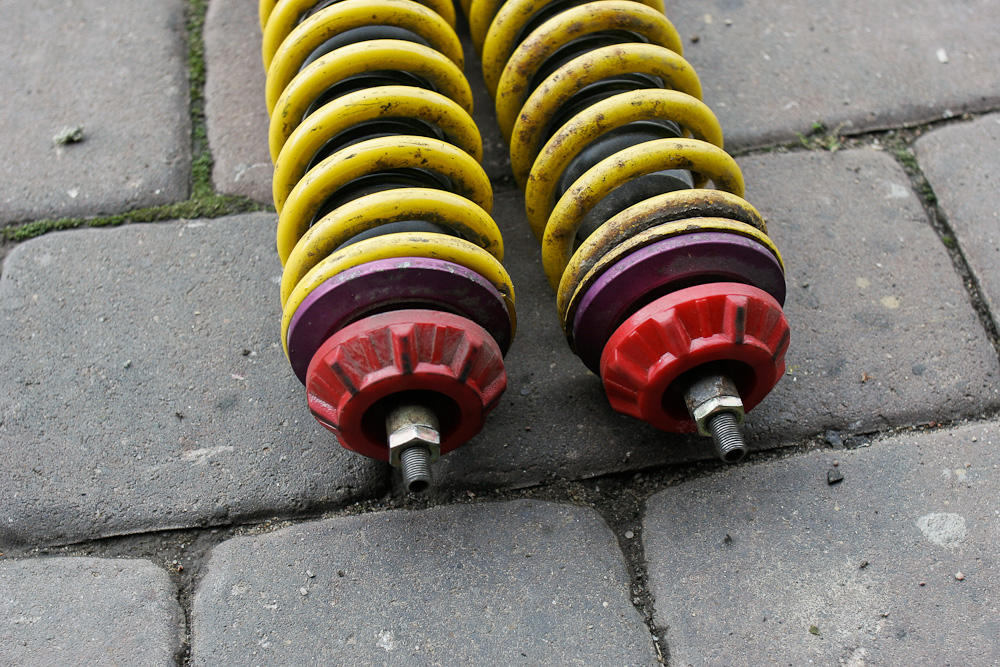 And.. assembled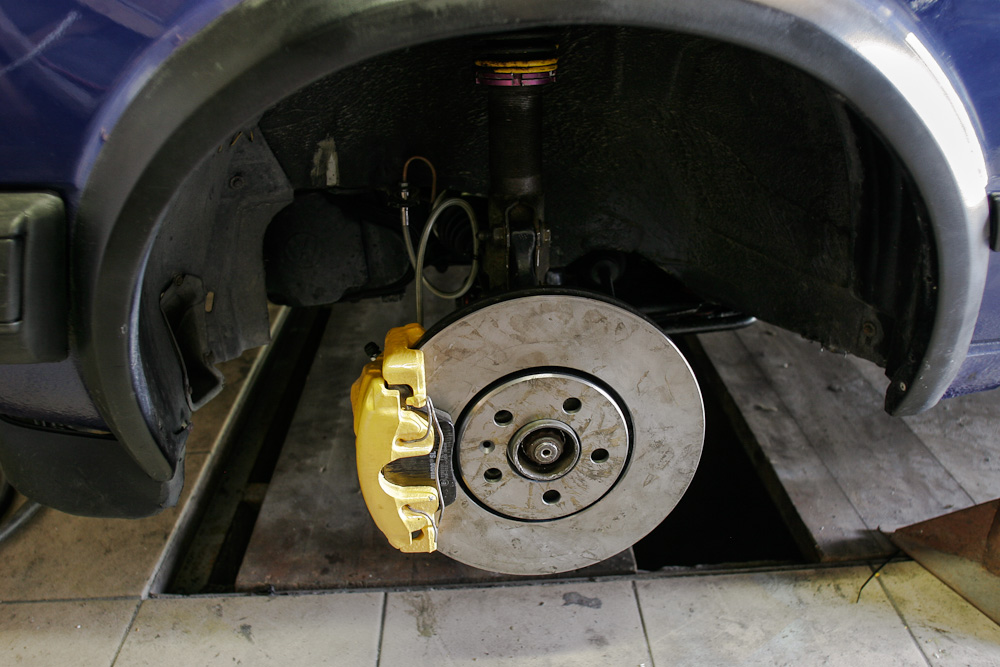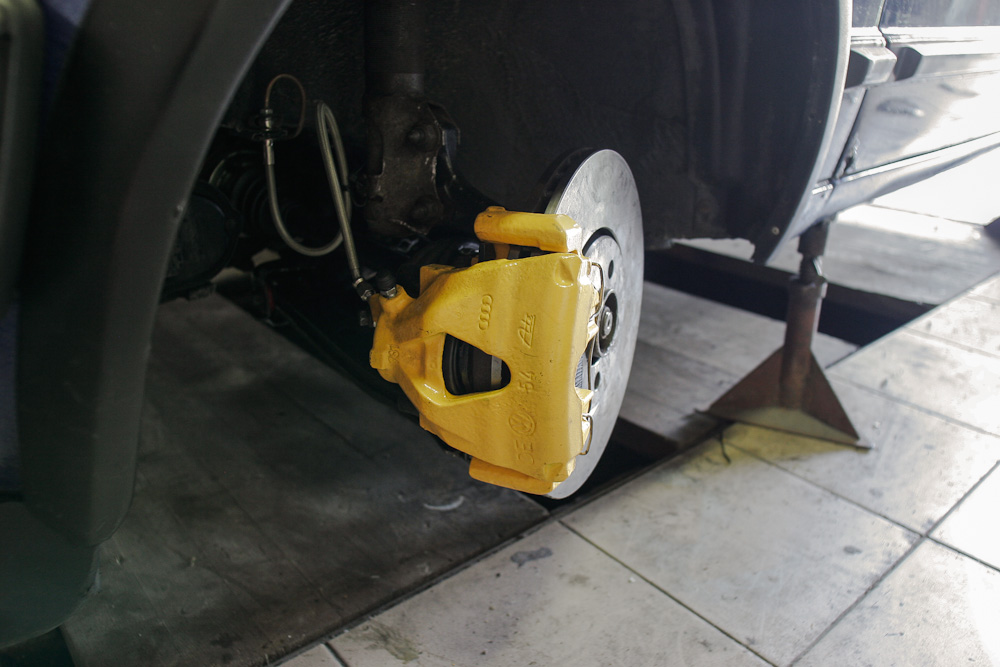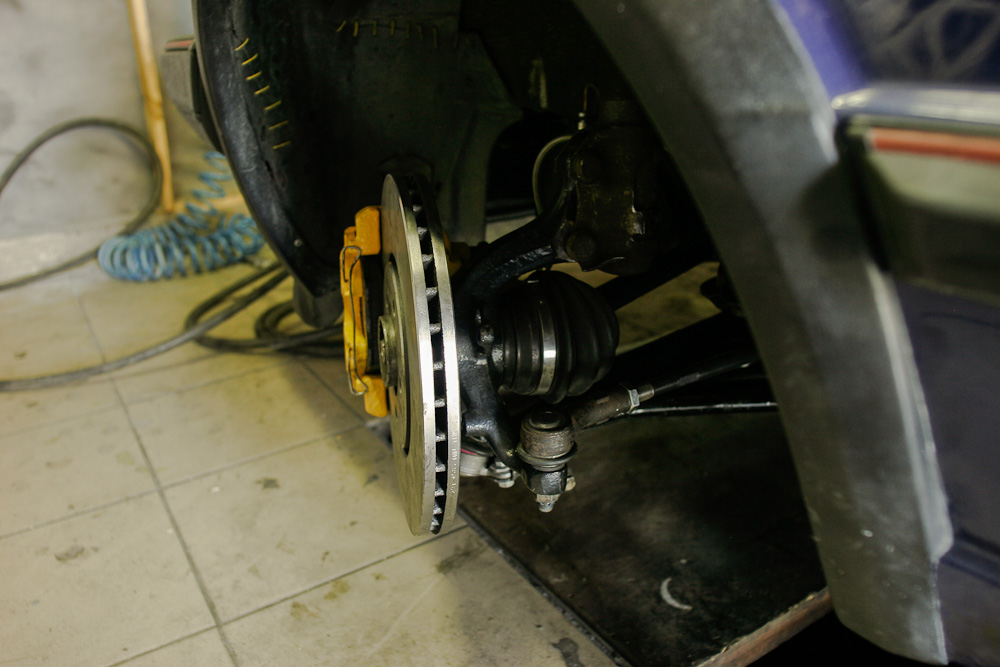 Wheels on! Some noticeable changes.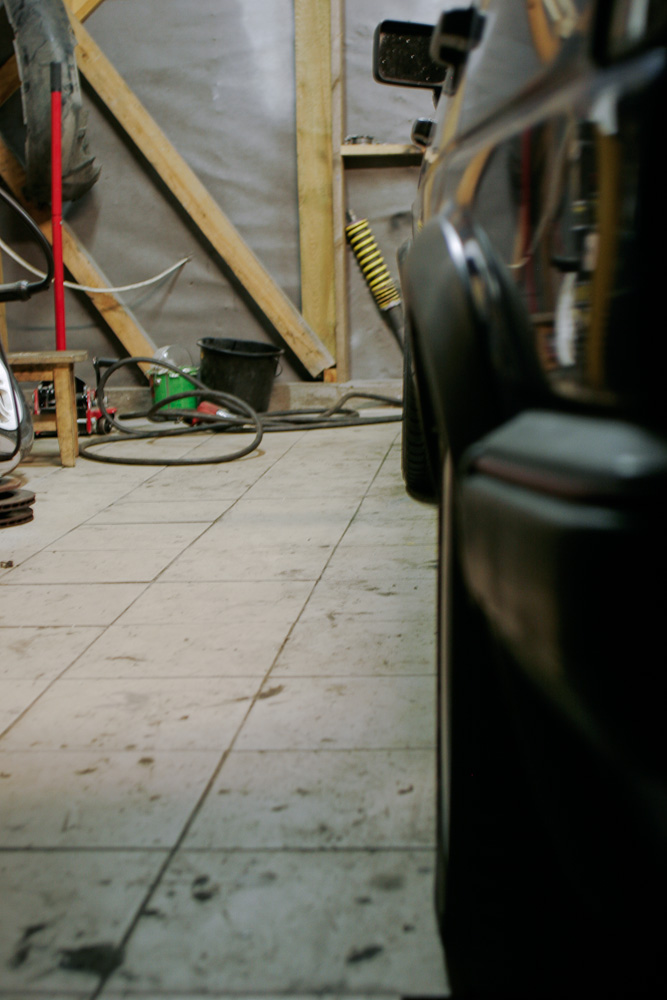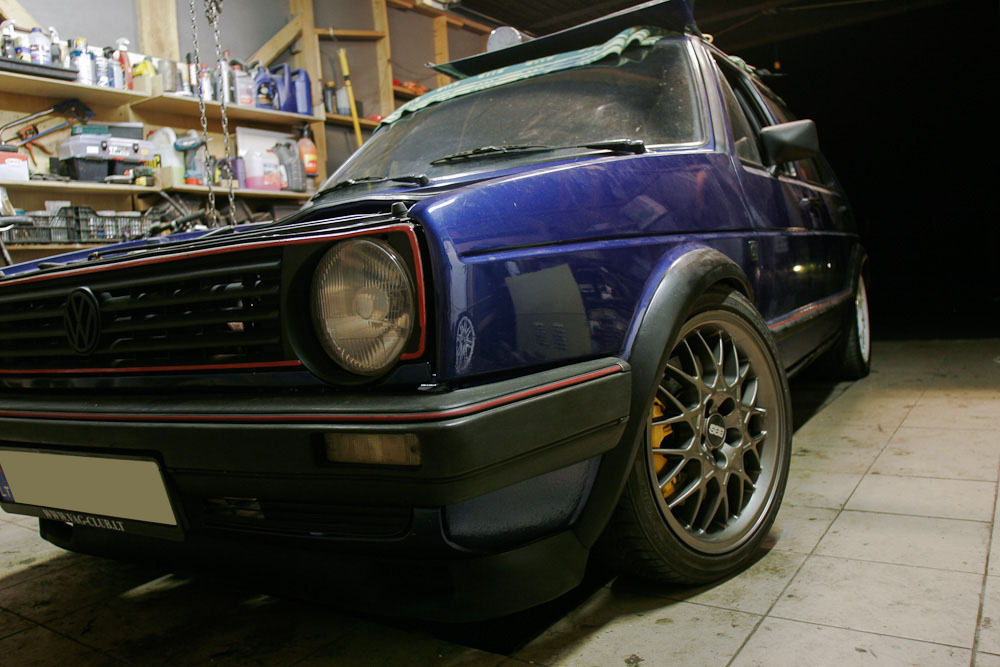 Assembled also and rear part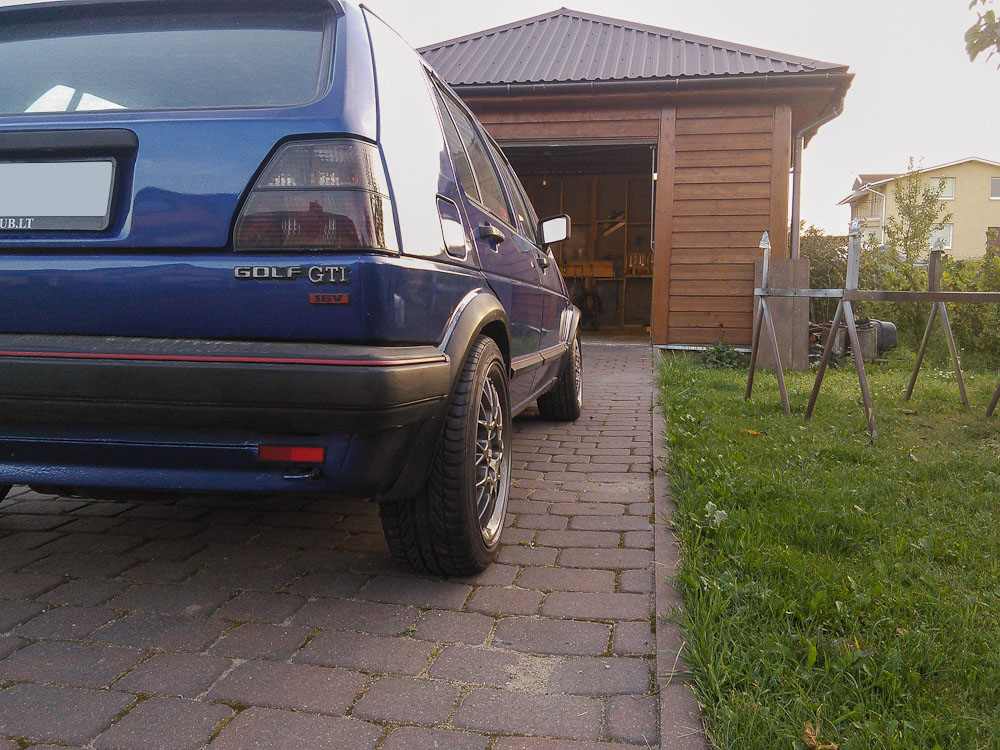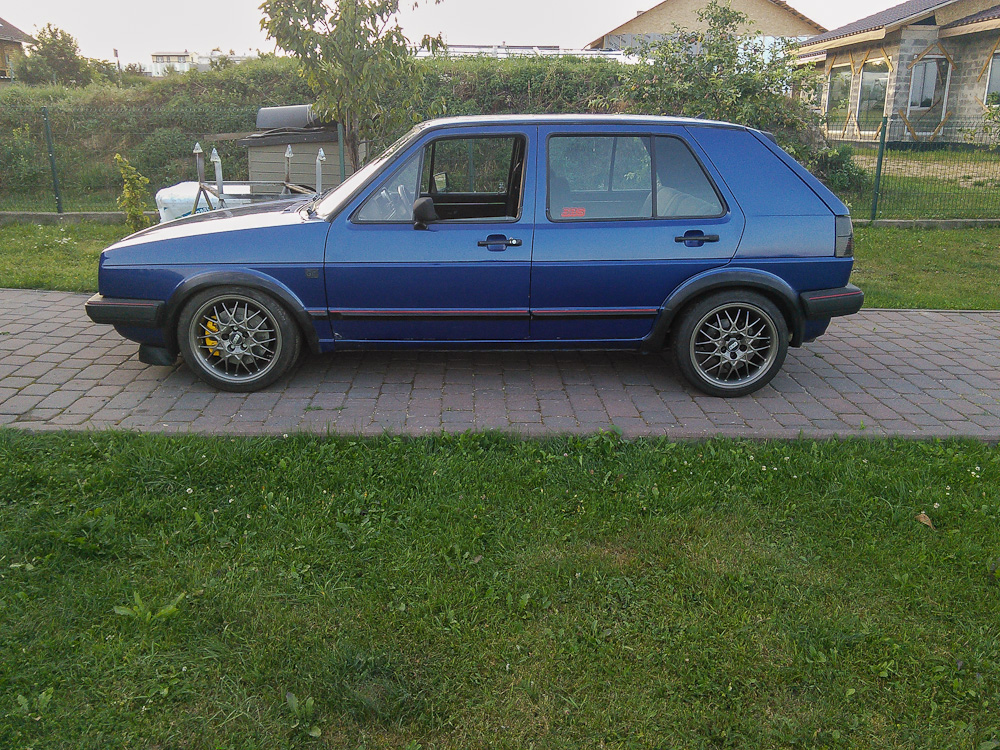 Height (and damping after test drive) is adjusted, wheel alignment done. Most of you may notice car standing quite too high.. Maybe but it'll be no more lowering.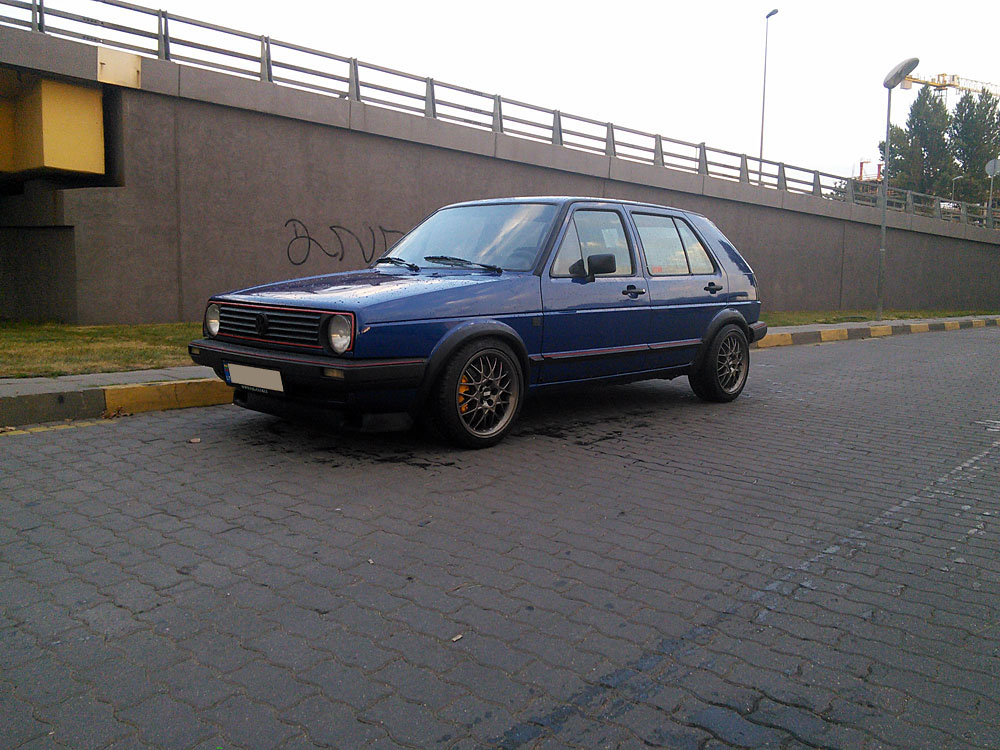 Now suspension's soft, handles and works like a charm. I simply left some room for wheels to move.