First mods to my valver
Details

Category: mk2 1.8T
Published: Friday, 14 March 2014 15:11
Written by Sheepwolf
Hits: 4696
The car had one modification to be honest. It was a bit lowered using lowering springs and some noname chinese shock absorbers. Neverthless these were chinese they worked quite well and were in good condition. Anyway talking about the handling this helped a bit - it didn't run as a bone stock golf. But there was feeling that it could do it a bit better. Rigidity! Yes, that's it. To source it polyurethane bushings, inserts, sleeves were installed everywhere possible.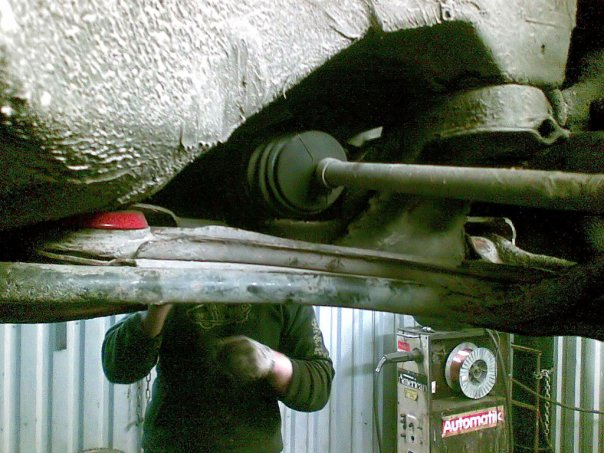 Furthermore I got into scrape once. I was constrained to brake sharply because of some obstacles ahead while speeding a bit. Ofcourse I did so, have avoided everything I needed to but few moments later I've noticed - I had no brakes anymore! Those just faded away and brake pedal easily went till the bottom giving almost no effect in braking. Suddenly I persisted the brakes overheated. As an outcome I've decided I need something more decent, but not as expensive as a whole car was. 
After some research I have sorted there are bolt on upgrade which required no custom modifications. And here we come, Audi S2 B3 calipers and carriers equipped with Corrado G60 280x22 brake discs. It was probably the most cost effective brake setup I could have instead of poor OEMish early 239mm GTi brakes.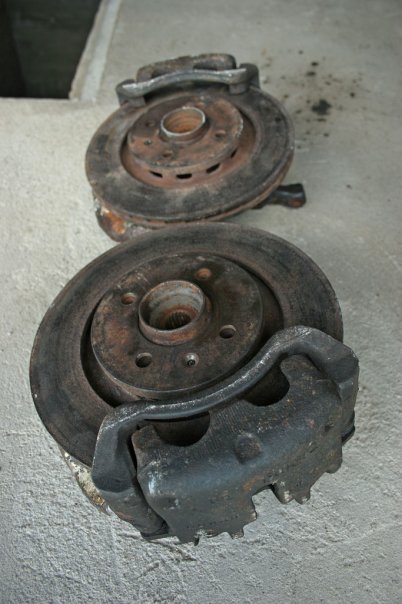 As I was running early GTi the native hubs were inappropriate in some dimensions, so I sourced these from Passat B3.
New brake pads and carriers in.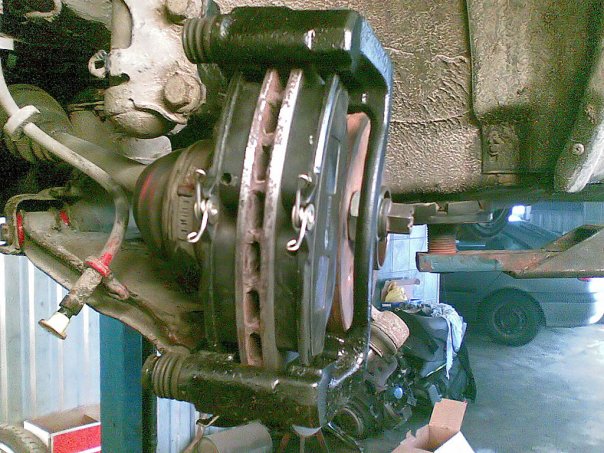 Everything fitted together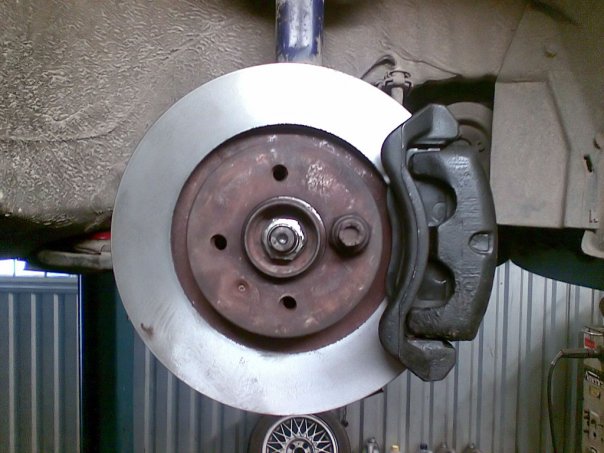 Typically there are pros and cons on every situations and this one is not ant exception. As a disadvantage I would like to say these monsters are as heavy as hell. Secondly master brake cylinder needs to upgraded to at least Passat's b4 MBC diameter @ 22mm since there are twinpot and somebody need to press them. According to ETKA there is a 25.4mm MBC w/o ABS available for some models, but it costs bloody expensive.