Haldex fabrication. Collecting, modifying and restoring parts
Details

Category: mk2 VR6 Haldex
Published: Saturday, 18 November 2017 22:53
Written by Sheepwolf
Hits: 6576
One day I just looked at my Haldex conversion project standing in my yard for... almost two years. Since then body was left to stand so and not touched during this period. 
However in other aspects it was progressing albeit slowly but consistently. Before leaving it to stand and eventually get to top in my own priority list it had seam sealant added on stitching places as those are welded and weaker against corrosion. I did not want to leave these bare for all the seasons outside. 
More over during this period of time I had Haldex rear beam fabricated. Of course all the pics explains the stuff I did, but I would like to add few more words regarding this adaption.
Adaption itself is quite simple thing and everything you need is a MIG welder, few meters of square tube, some of the steel sheets, maybe 10 different size and different thread bolts.
Basic idea is to fabricate rigid jig which will tell you important fastening spots and the most important - longitudinal axis of propeller shaft once you start adapting Haldex diff. This jig is so to say a copy of fastening points layout. Personally I wanted to keep and reuse these points in conversion as I own genuine Syncro chassis.
So, let's move on!
How it looks in standard form: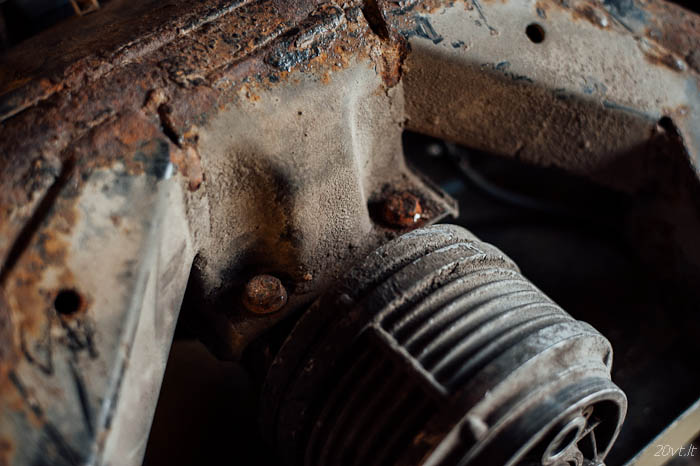 Removing old Syncro beam bushings... Slightly tired :D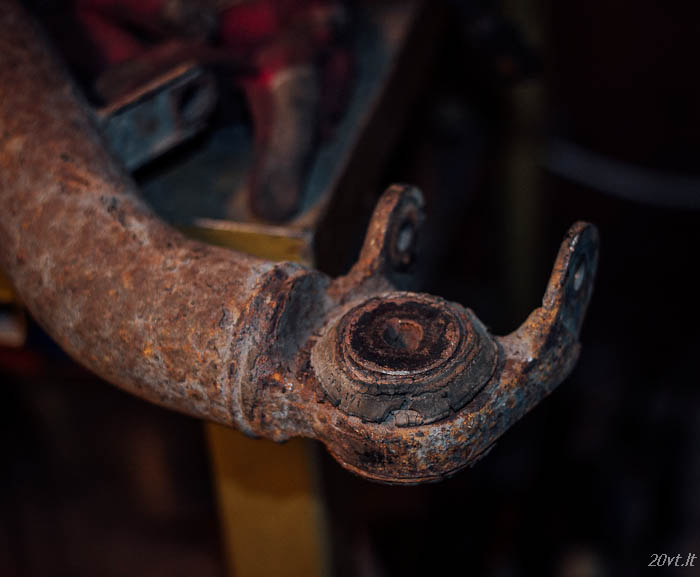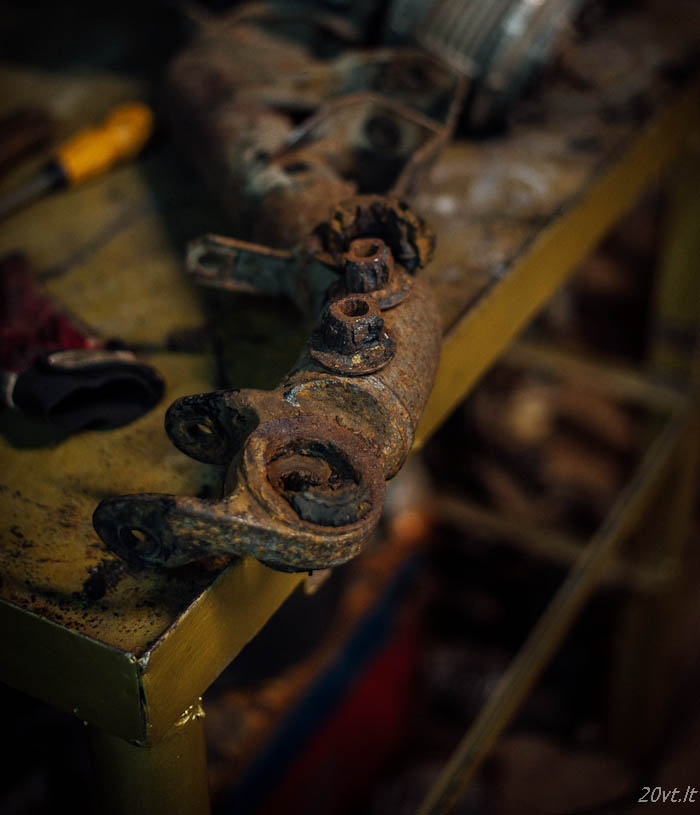 Old ones were rusted completely. New bushings for rear Syncro beam came in: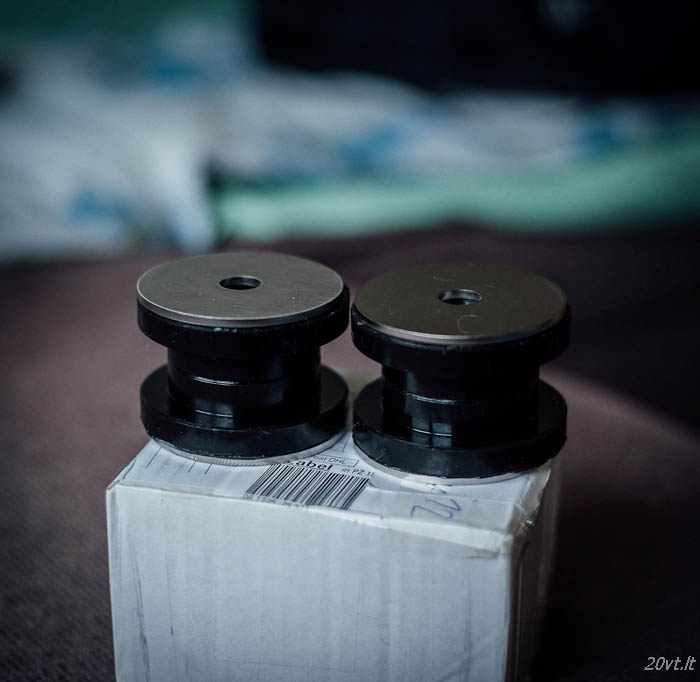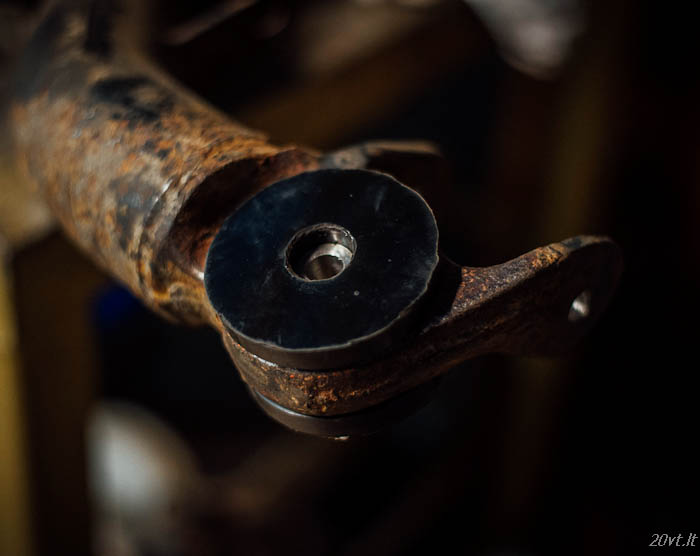 After new bushings were added I started to fabricate jig so I could to define rear Syncro diff centre as mentioned before.
Let's move to jig fabrication..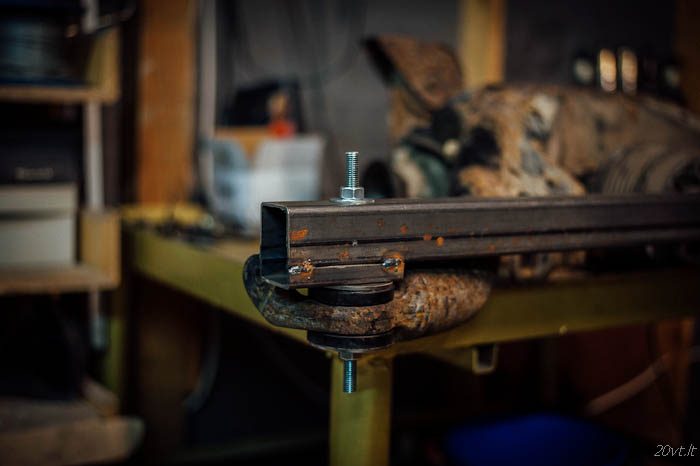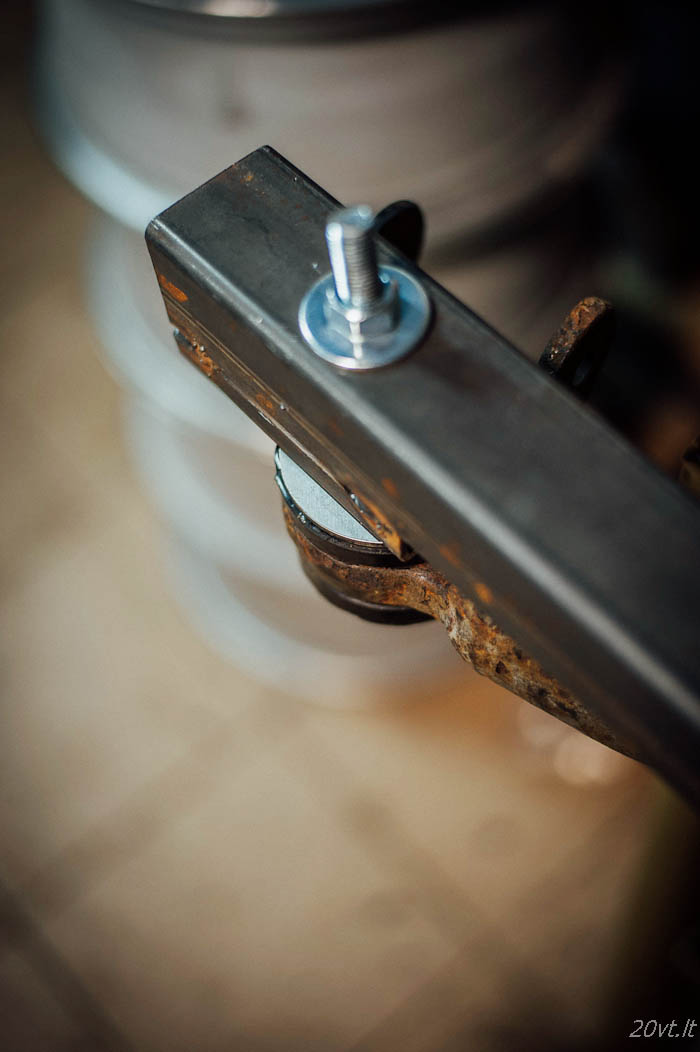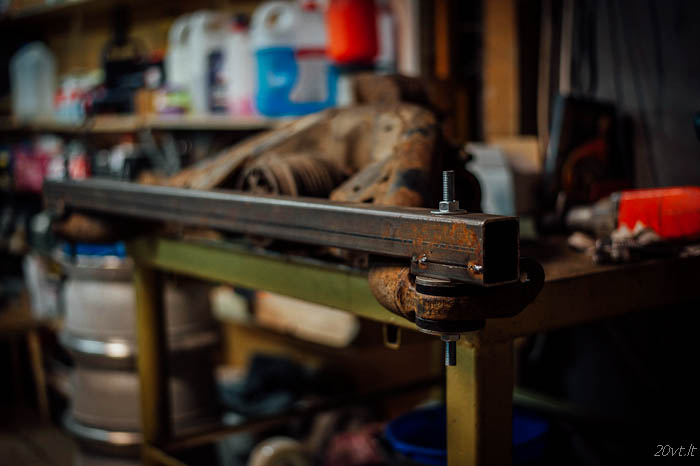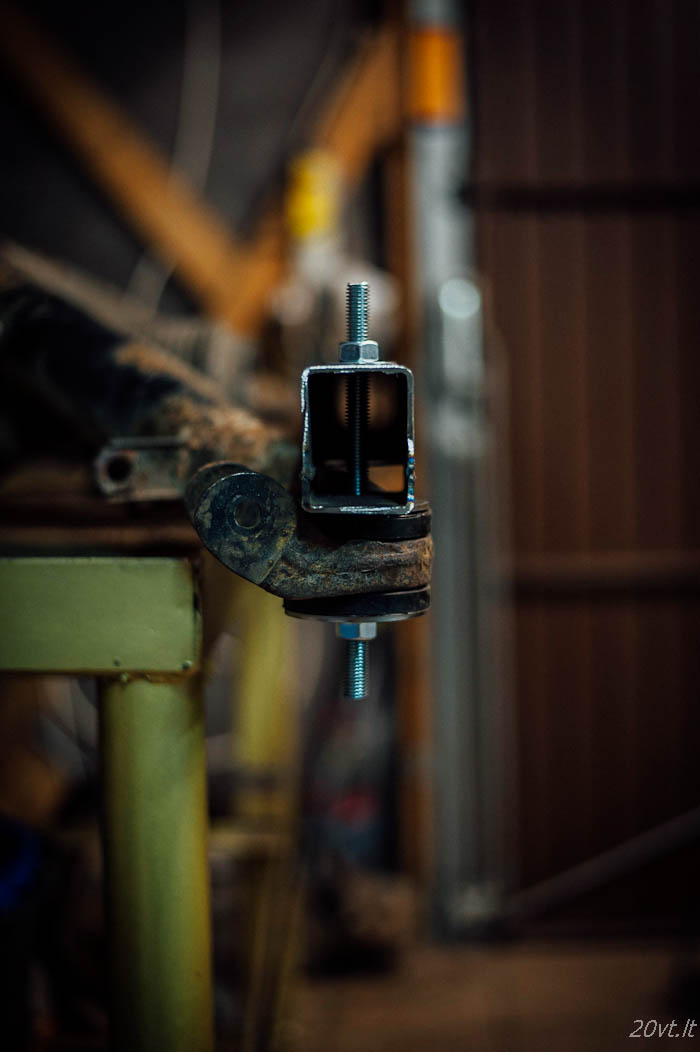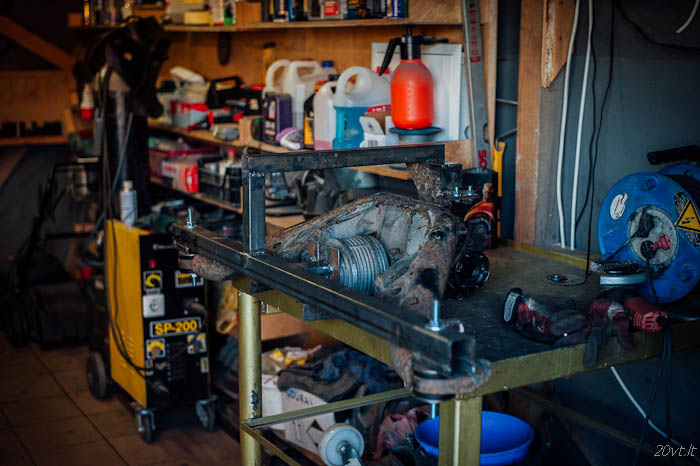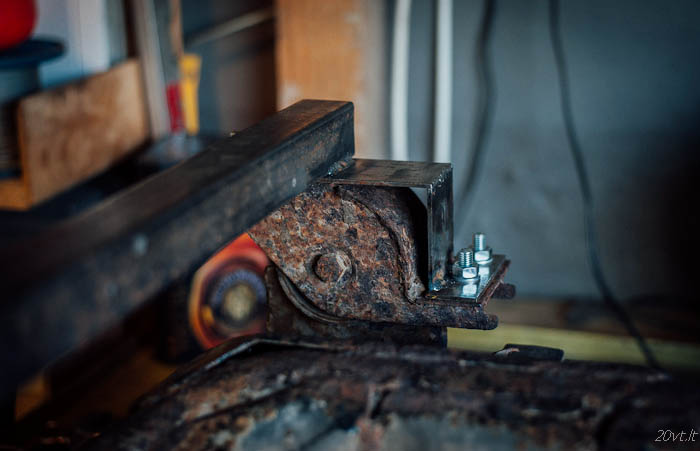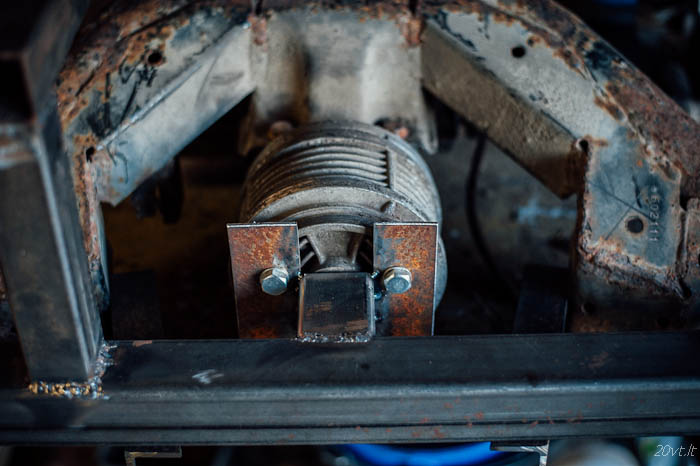 In picture below you can see all of the OE syncro diff points obtained. The jig is ready and can be removed: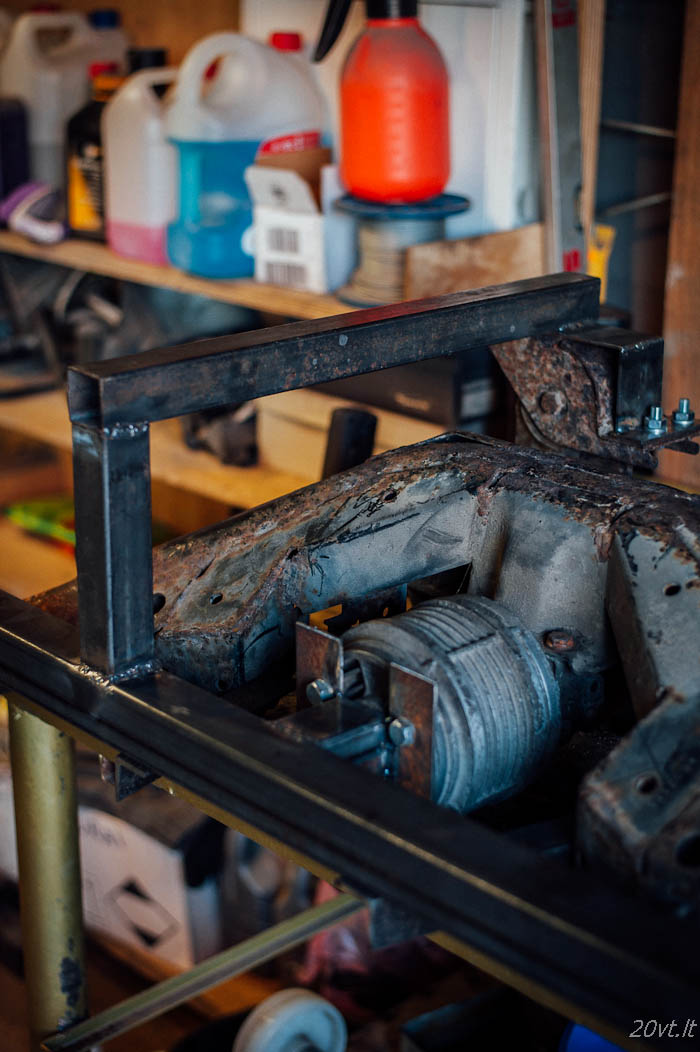 Haldex vs. Syncro, diff comparison
Cut off all Syncro brackets which existed before to keep diff in place. Remove Syncro diff and bring Haldex diff instead while using fabricated jig.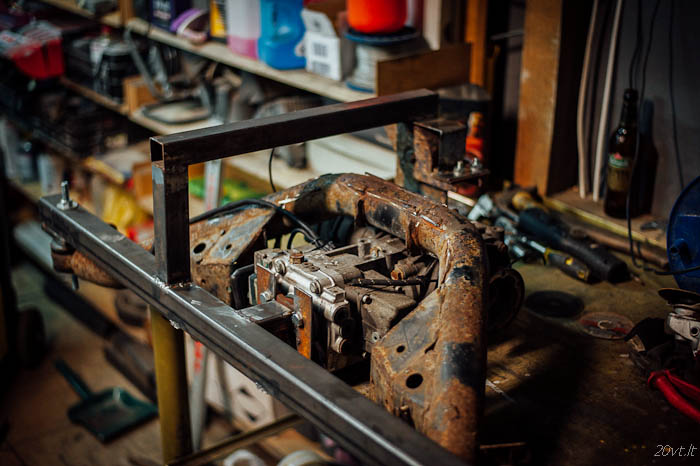 I left rear Syncro bracket in place as well: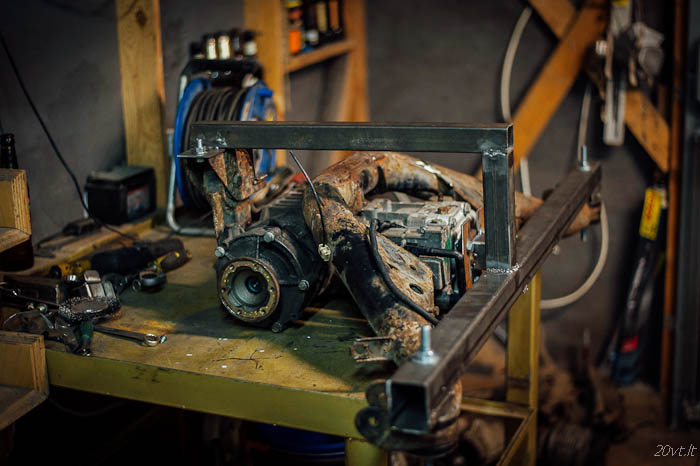 Diff is aligned longitudinaly to propeller shaft center and is perpendicular to propeller shaft itselft. From now on you start fabricate bracket in any way you wish. I have used 3mm thick steel sheets. 
First bracket I fabricated... Having this in place it was sufficient to keep Haldex diff in place really tightly. BTW I made new threads in Haldex diff so I could use bolts you see in picture below. Originally these threads does not exist: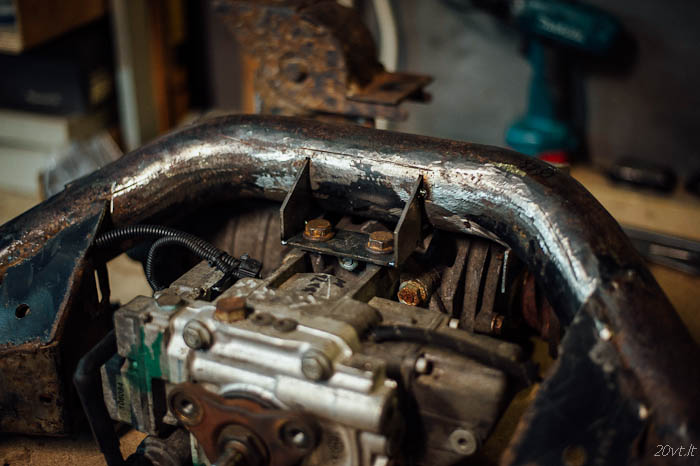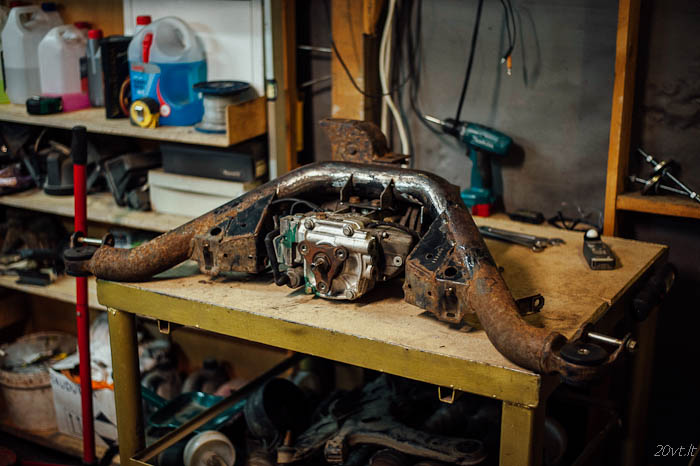 And then I fabricated whole new part which gonna wrap Haldex diff and use it's original bolts to carry diff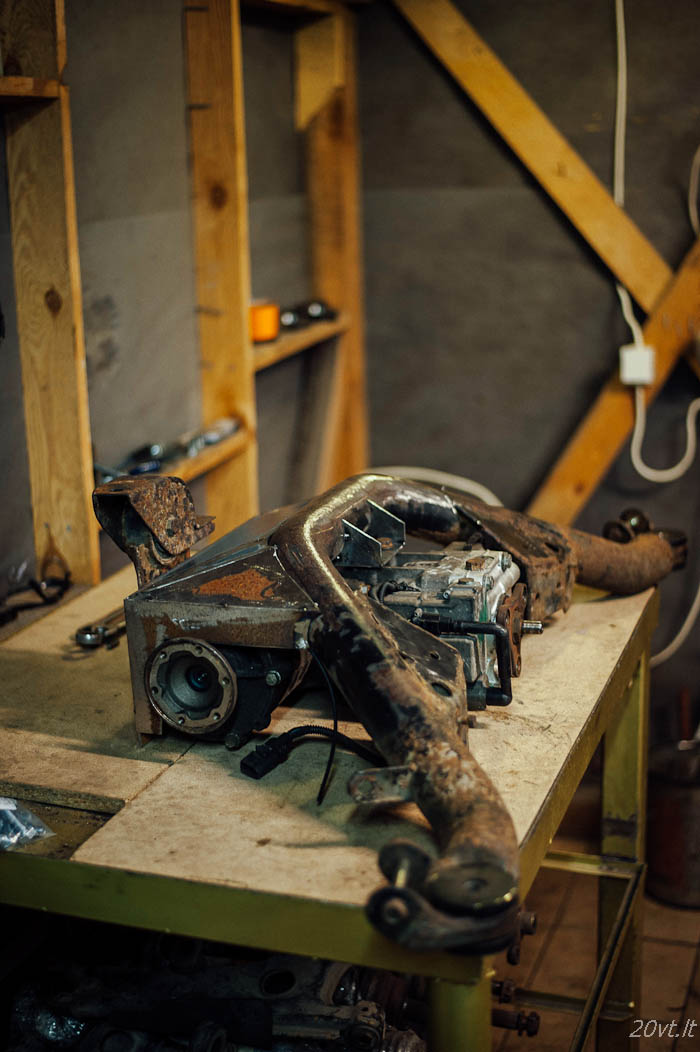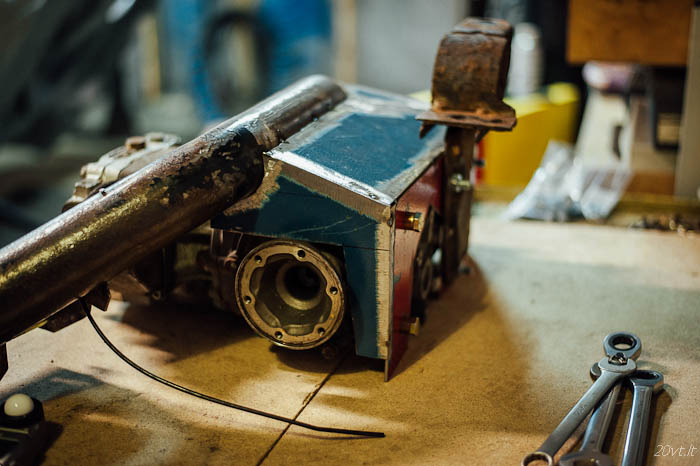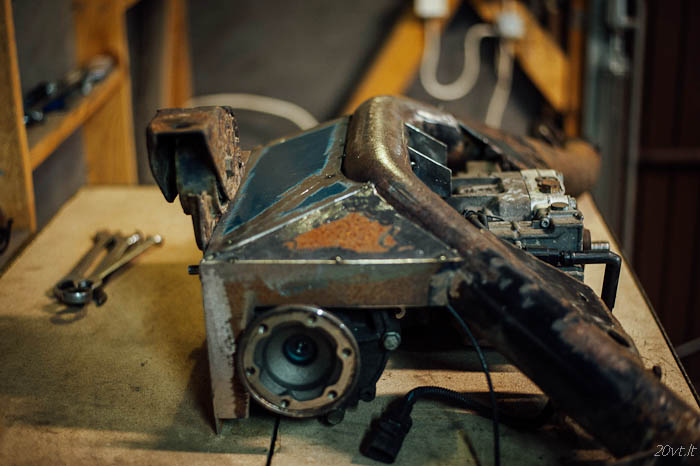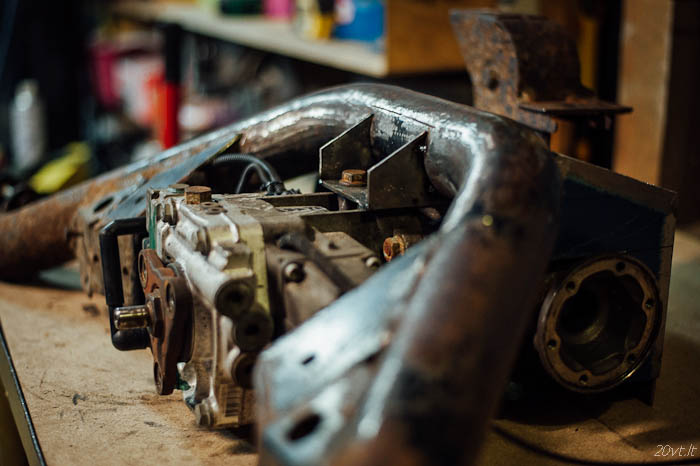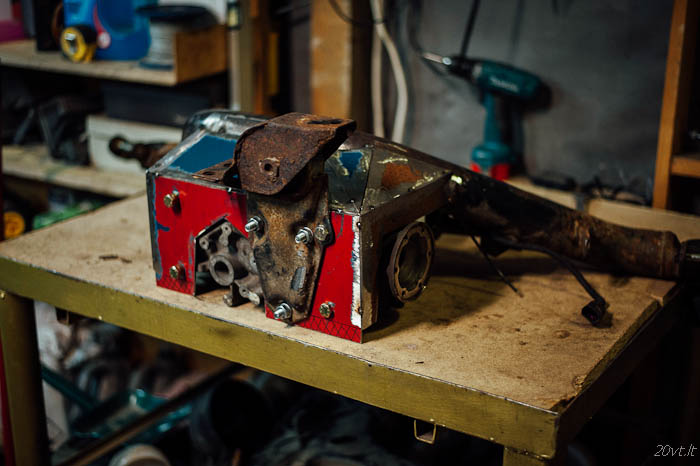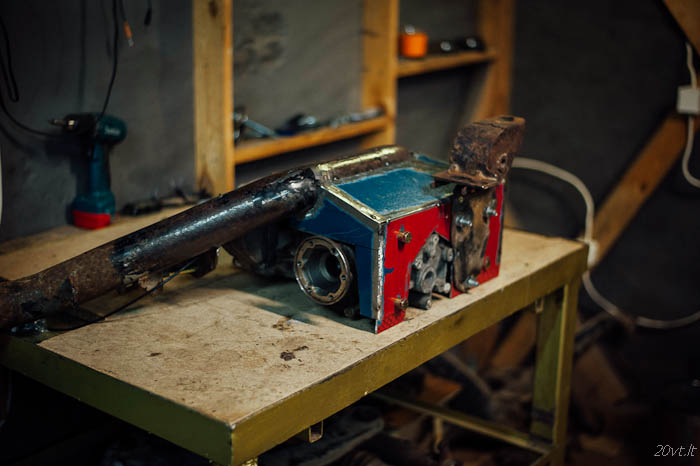 Once it's fabricated attach jig back few more times to assure diff sits perfectly and all fastening points and centre perfectly match as it was planned and measured before.
After I was sure, I did weld it completely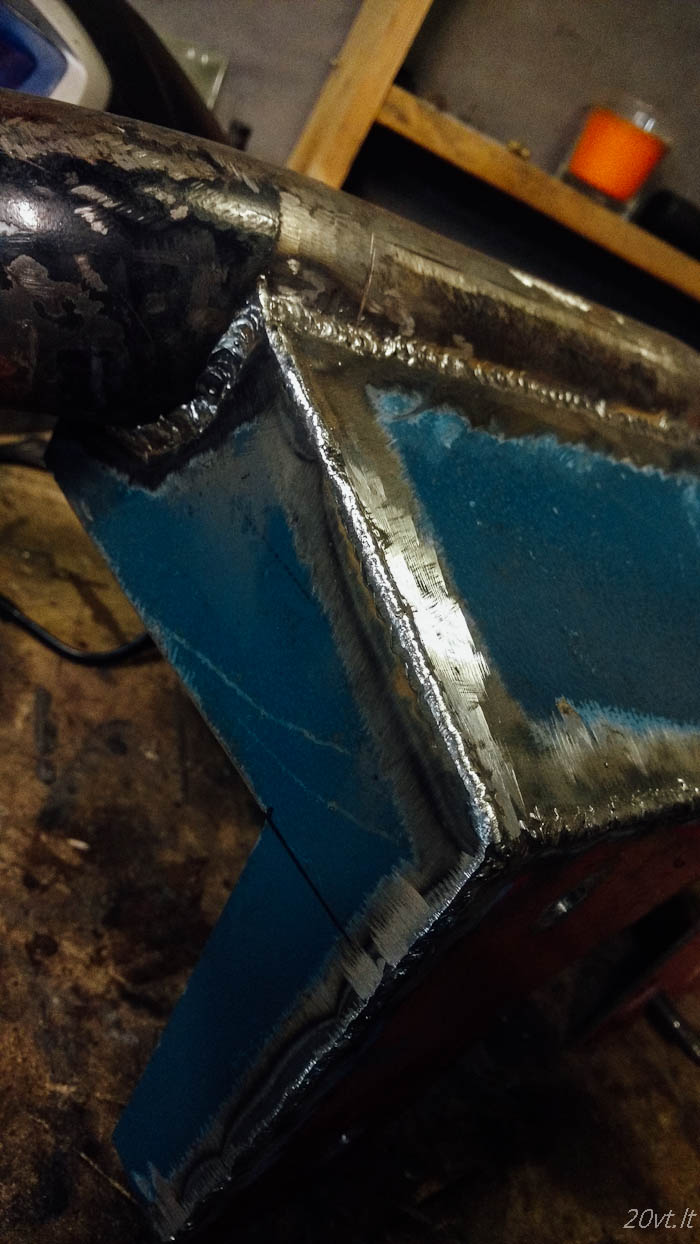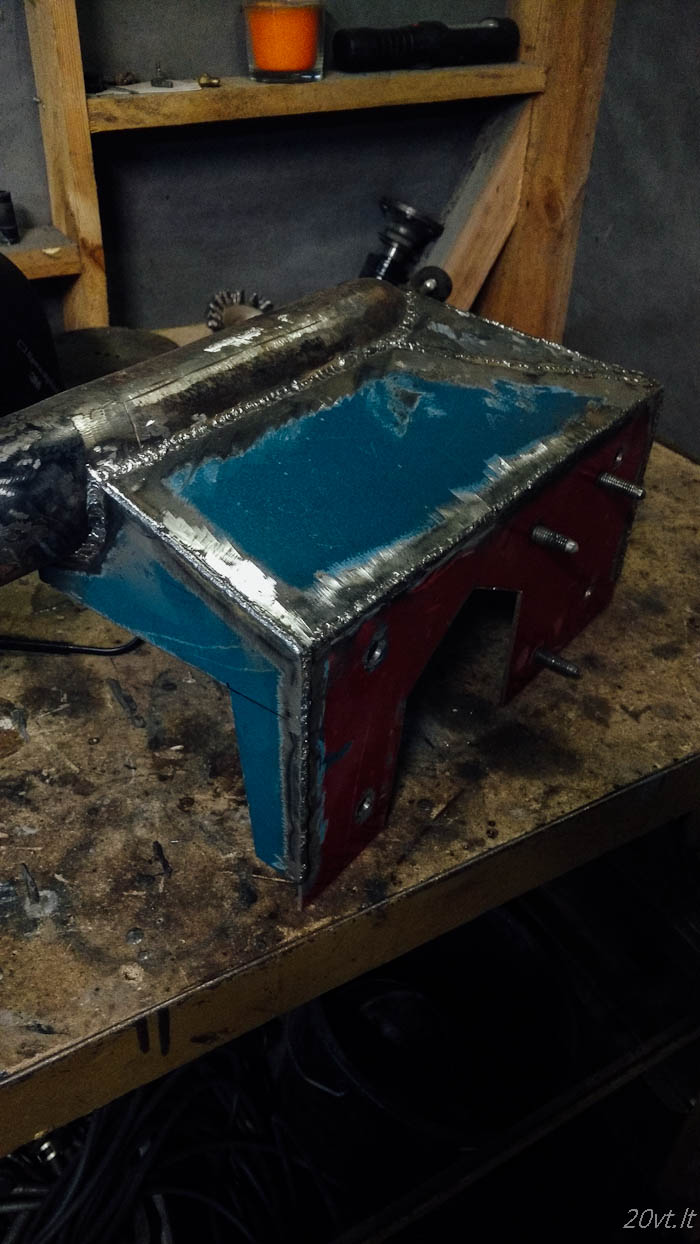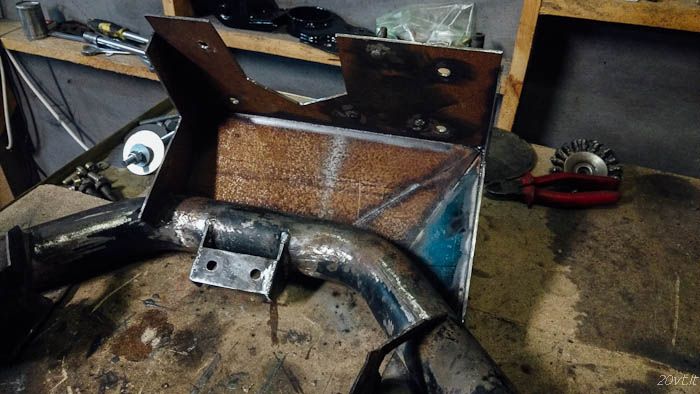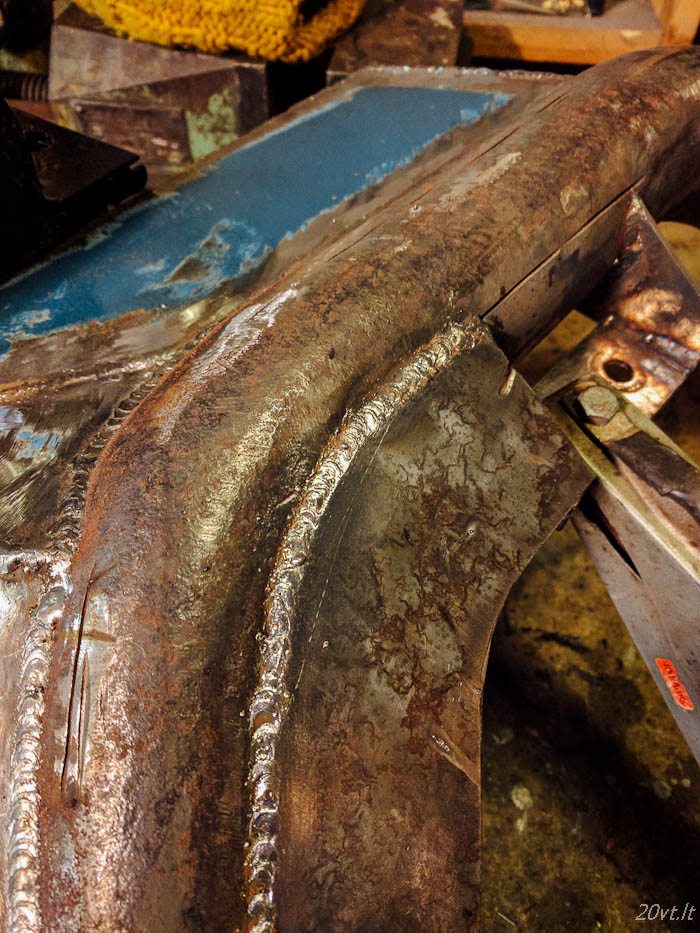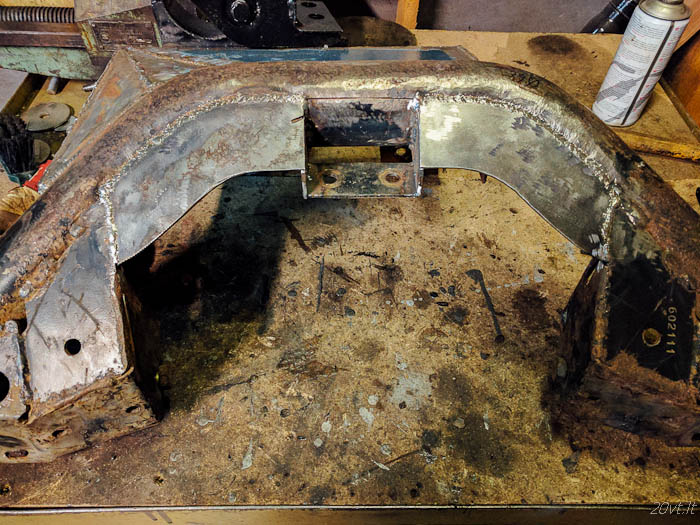 Sandblasted and powder coated almost all the suspension parts: rear trailing arms, ARB's, front sub frame, front wishbones, spindles, etc.
Spindle housing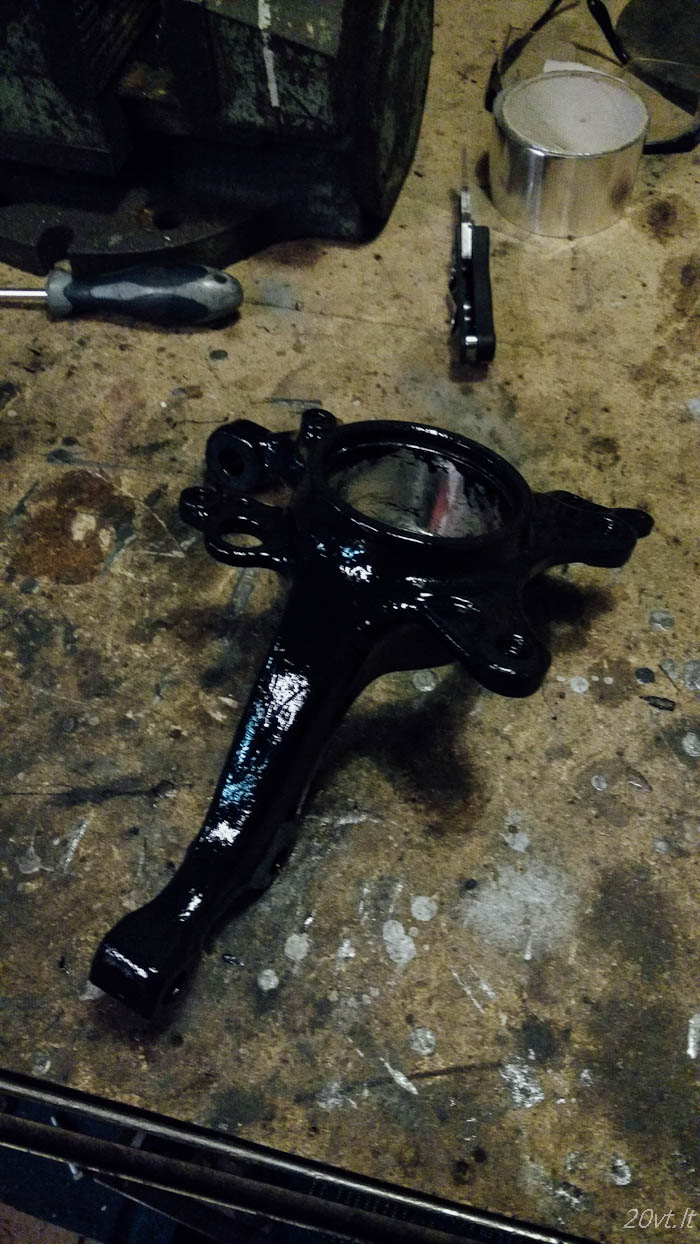 Rear Syncro beam hangers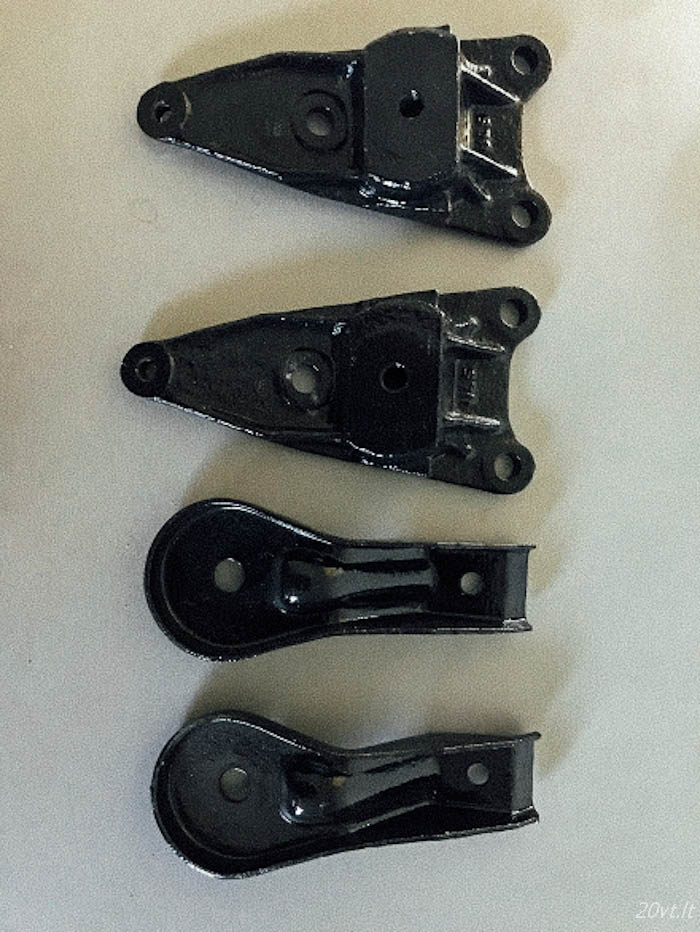 Rear Syncro trailing arms and beam powdercoated: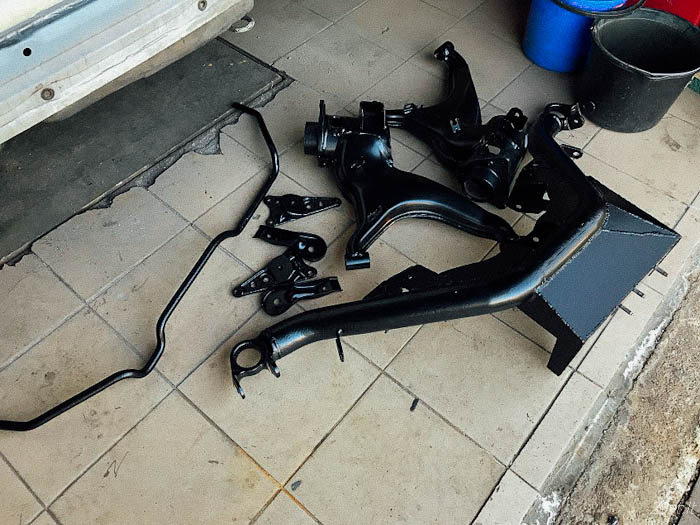 Bushings for entire suspension, engine mounts and propeller shaft bearings: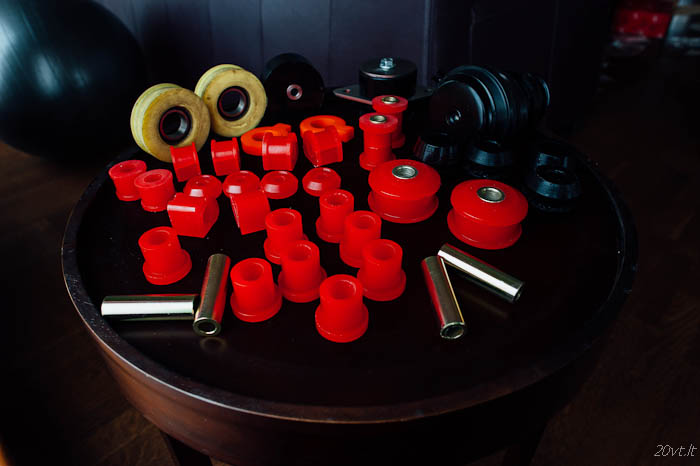 Front beam, front ARB, front wishbones: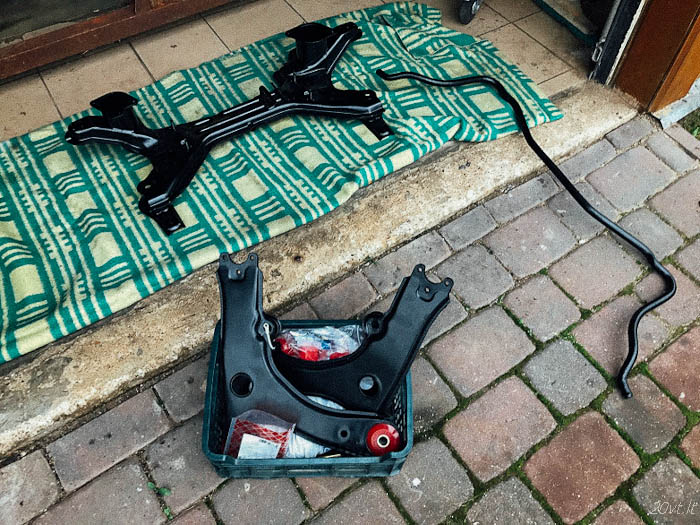 Altogether...
Front coilovers and fully adjustable Koni coilovers: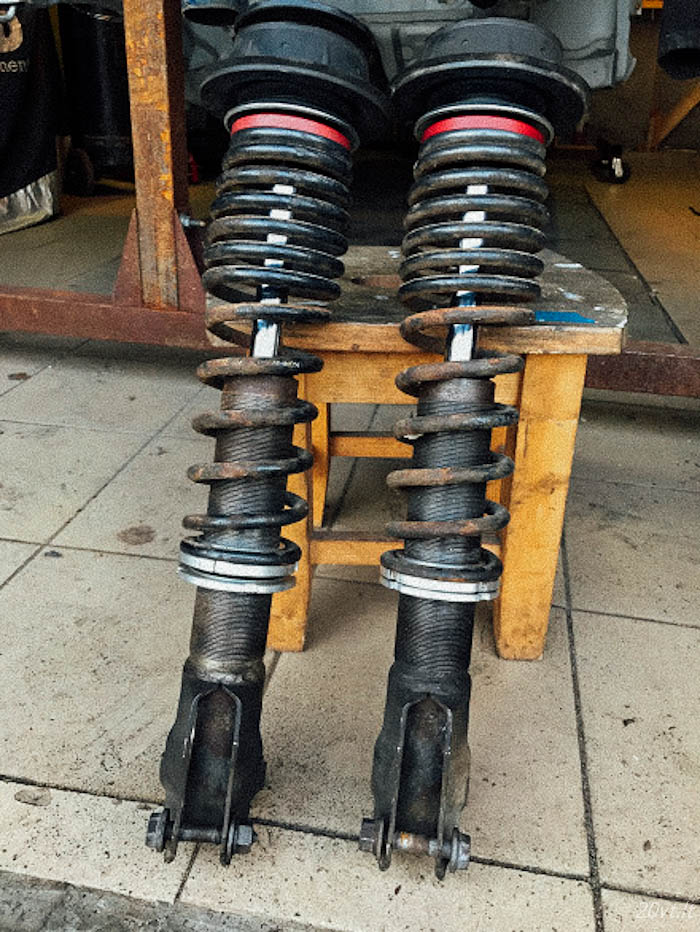 Rear ones, nonames:
New OE bolts to assemble everything: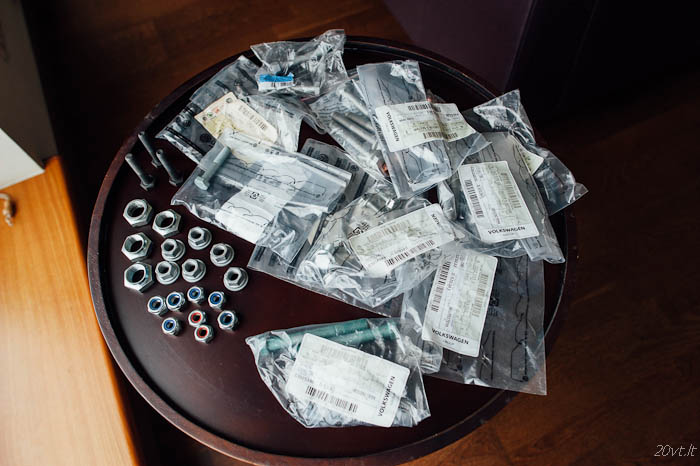 Have sourced all 4 doors in perfect condition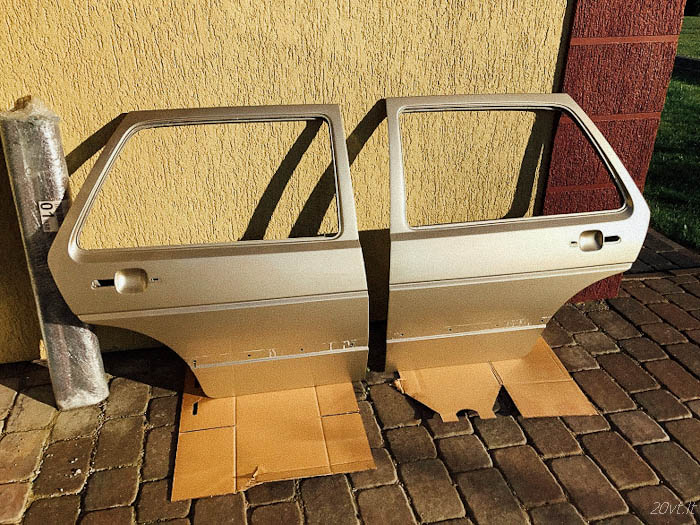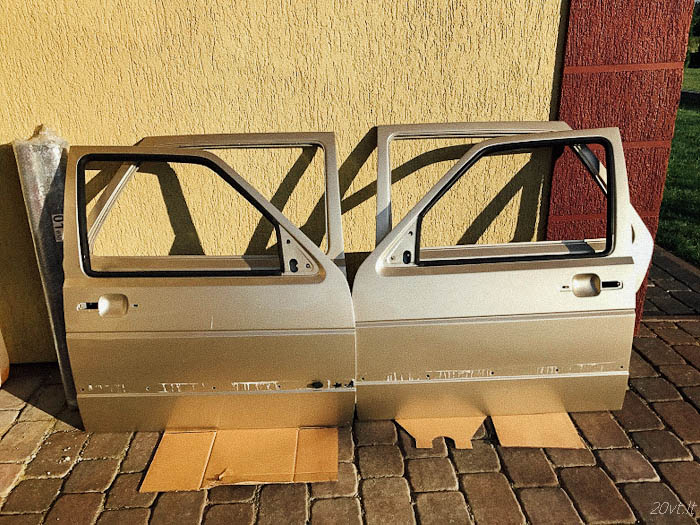 I changed my mind regarding engine to be swapped. It's going to be VR6 12v AAA OBDII which is still in 98's VW Sharan:
OBD2 AAA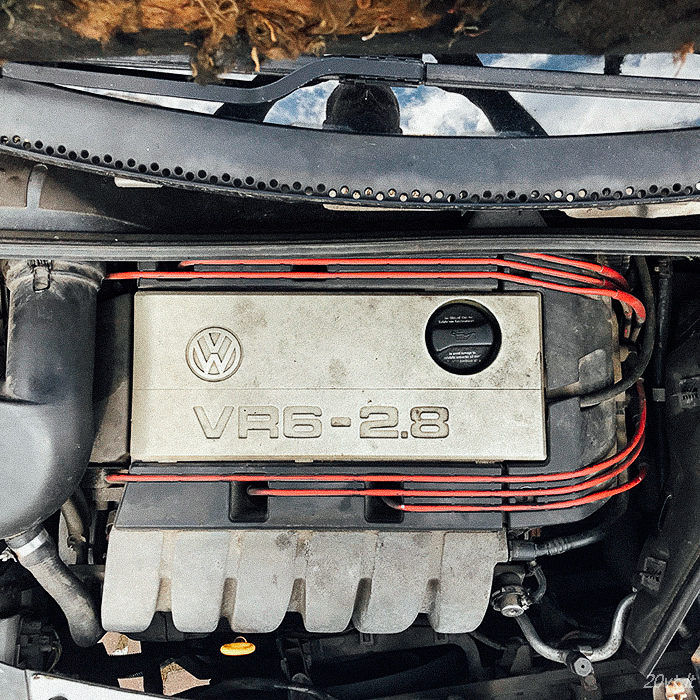 I only kept 02M 6speed gearbox from previous swap set as these has T-case and better reliability than any older unit. I even sourced one more unit: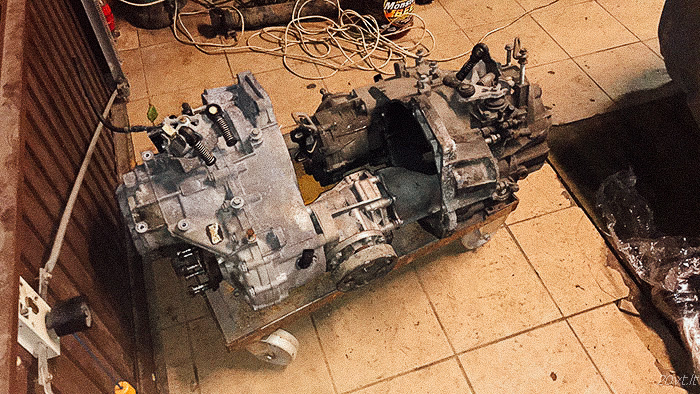 Haha, some nice touch to Golf - AP racing brake kit collected. Rear parts:
Front:
Whole kit consists of front brake disc rotors 308x28mm + 4 pot lightweight calipers. For rear - it's a 2 pot lightweight aluminum calipers + rear floating rotors.
To make these function intention is to use Tilton pedal box equipped with Willwood separate brake cylinders.
The only problem left for the moment - I can't say where from I will source R15 rims to be used on these brakes. Tried many different rims, but street rims has always the same layout or reinforcement right after spokes in inner part. This thick piece of aluminum construction always rubs caliper. Probably I will be forced to use some Compomotives or O.Z. mags - purely racing wheels. I know 90% lads are running stock'ish 288mm setup with single pots. I've myself used that setup for many years in street and track days and it never overheated nor failed in any aspect. Just put Audi pepper pots as light as fuck, mount semi slick tyres and enjoy perfect suspension geometry and all benefits of it. But now why not to have some fun out if it :D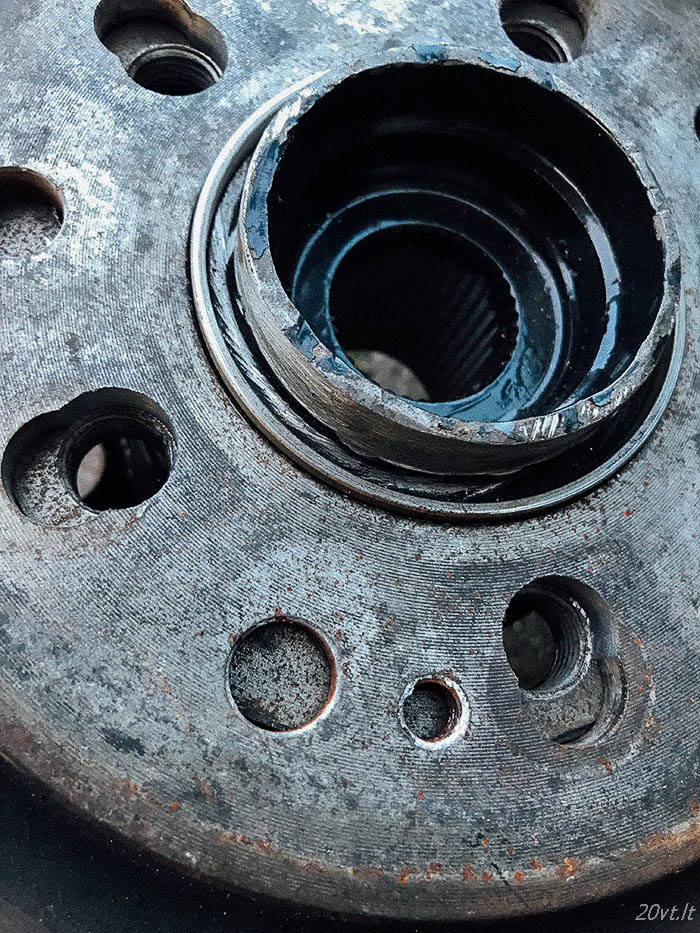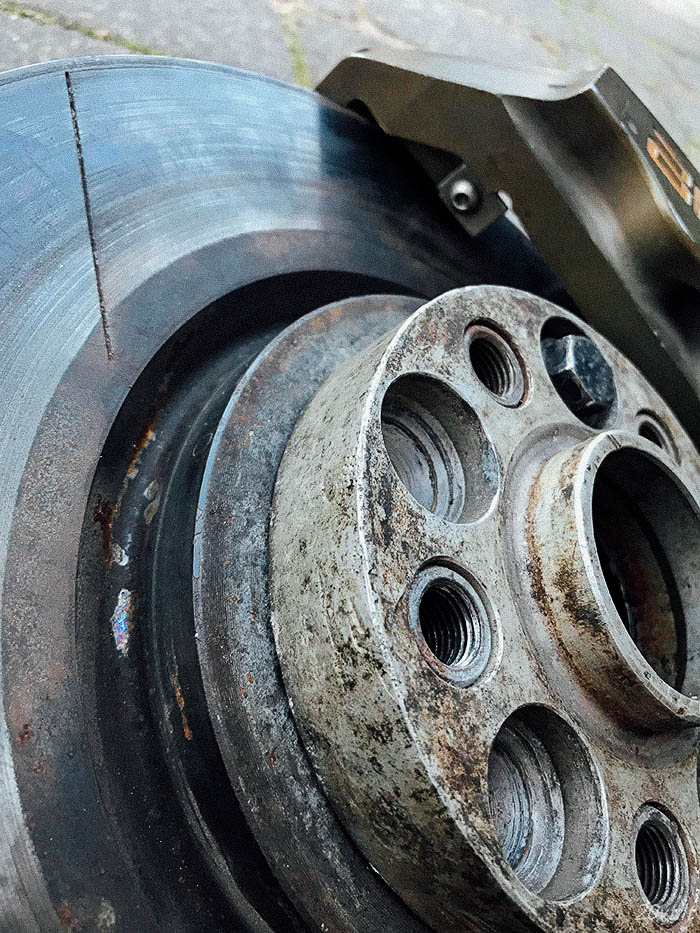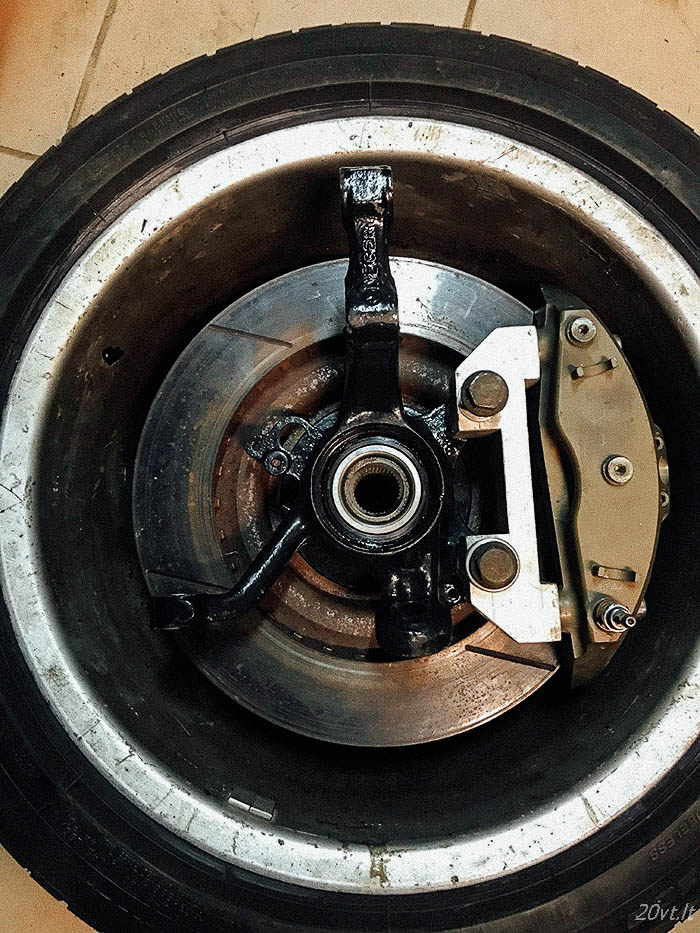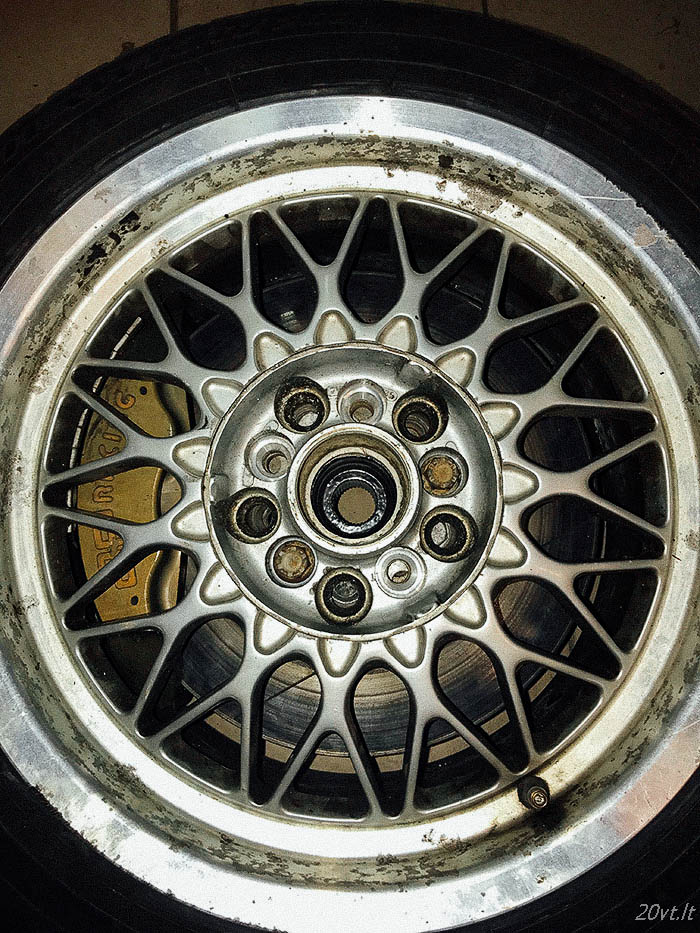 Trial fit of rear beam:
Have assembled rear beam too: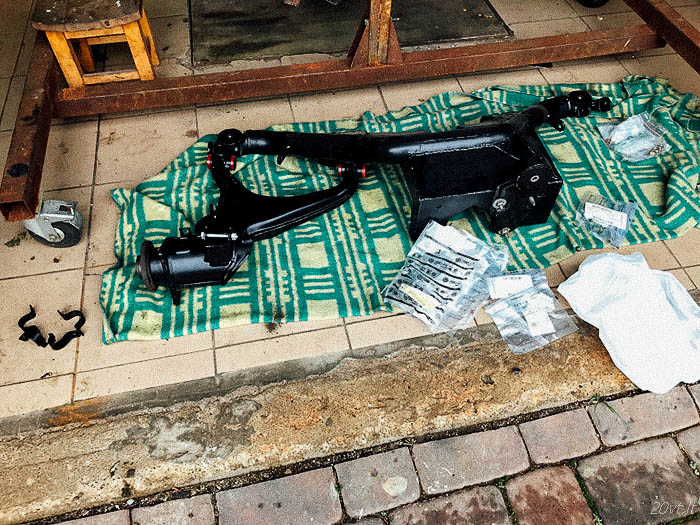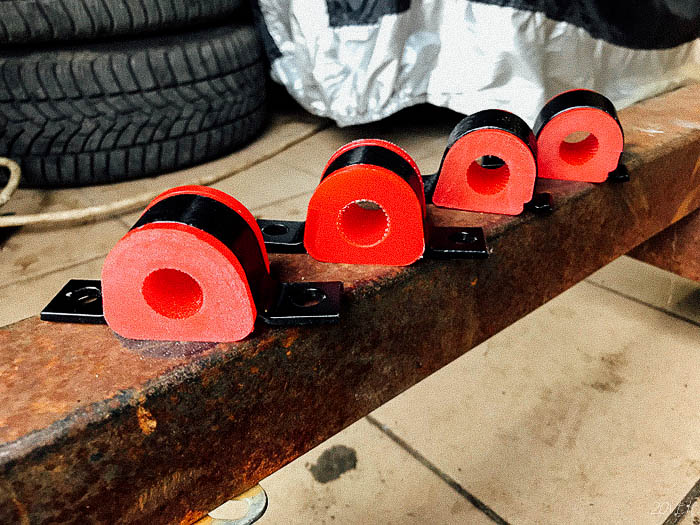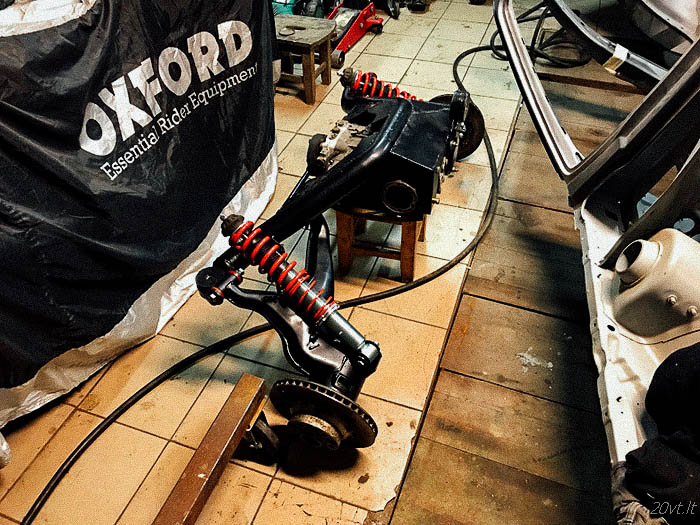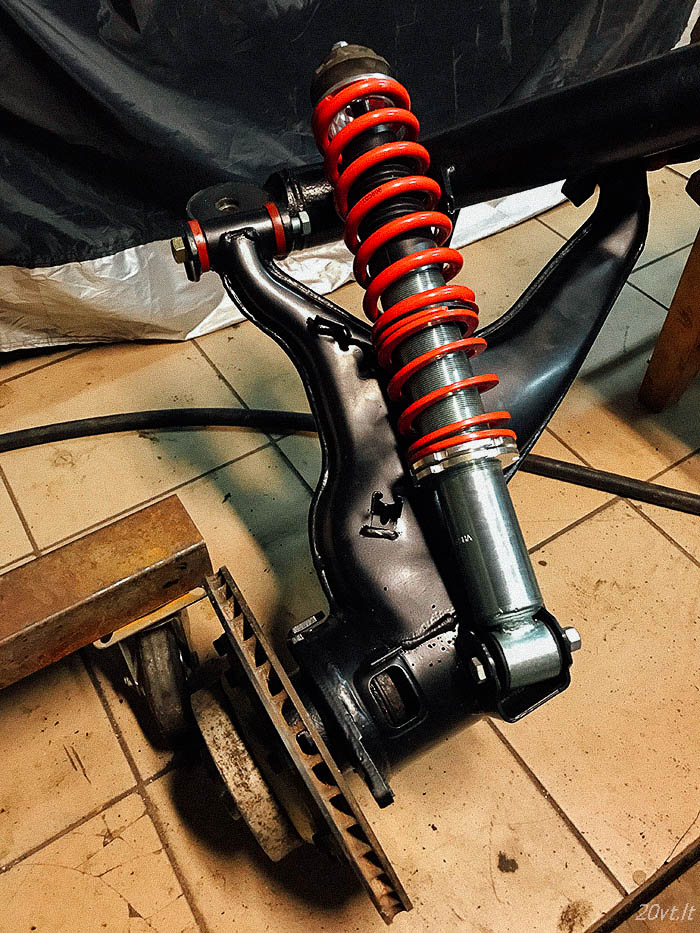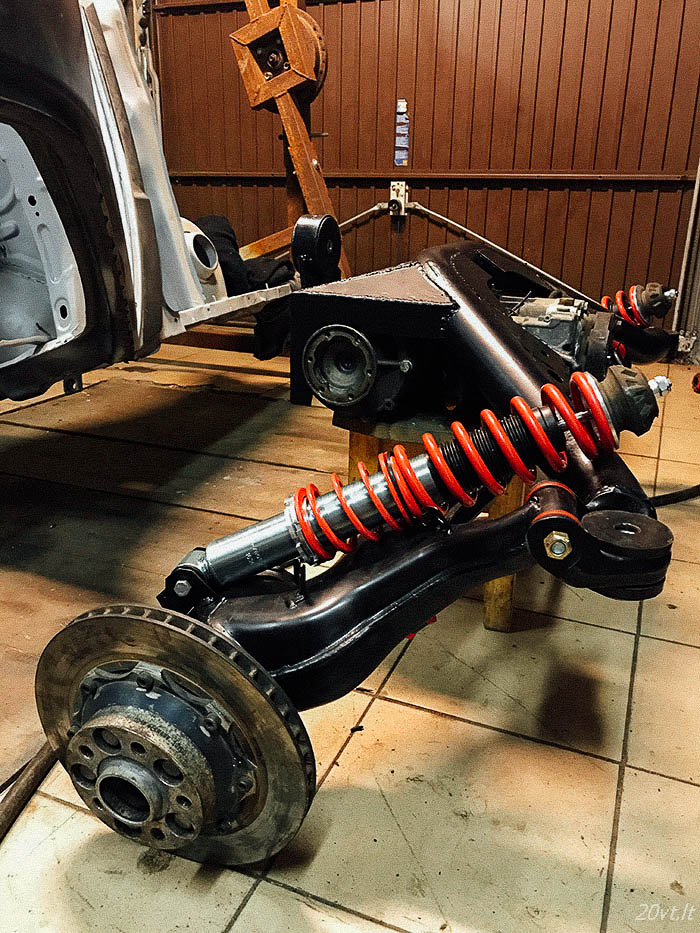 Bolted both front and rear beam to chassis...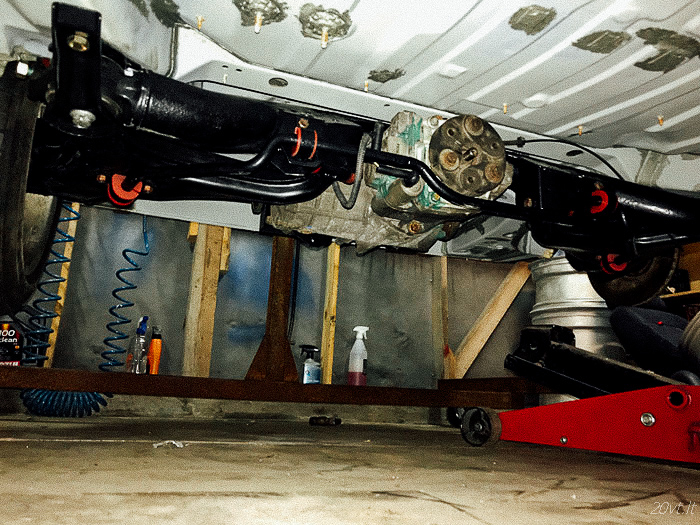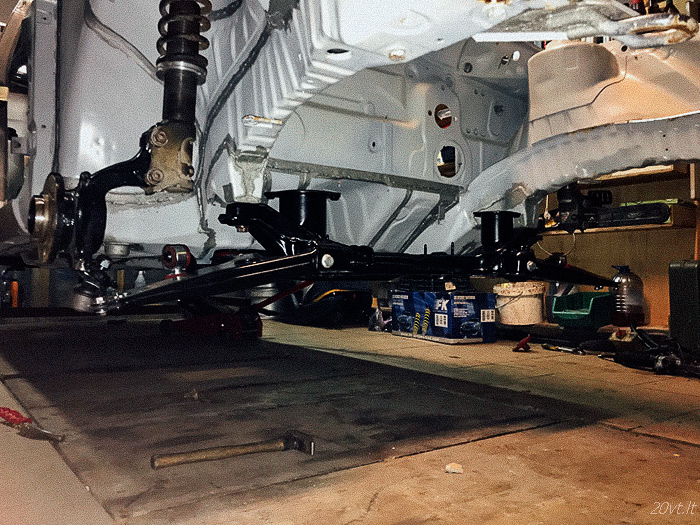 Rear wheel on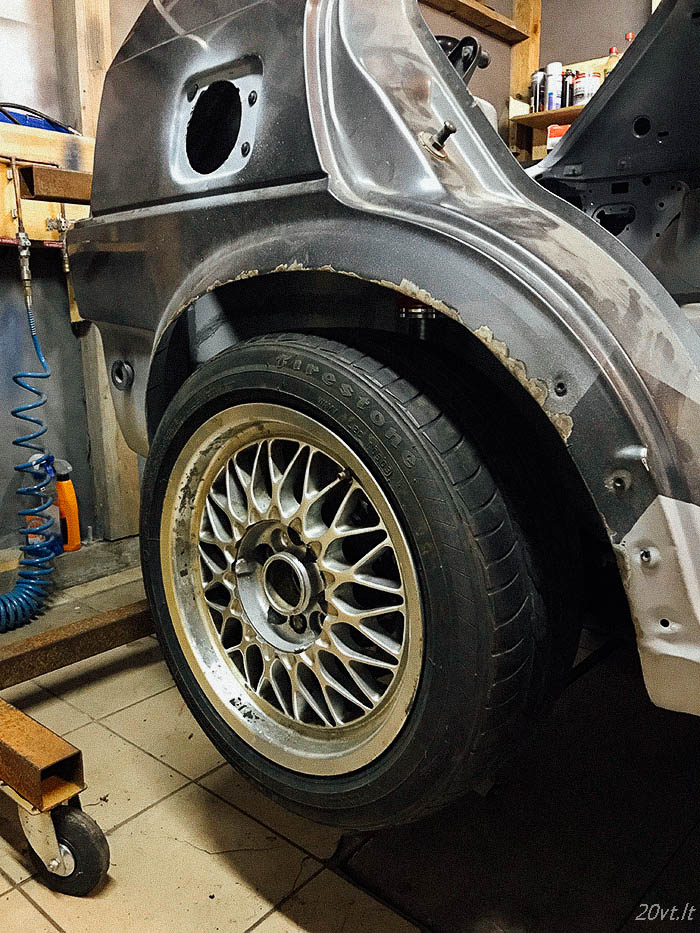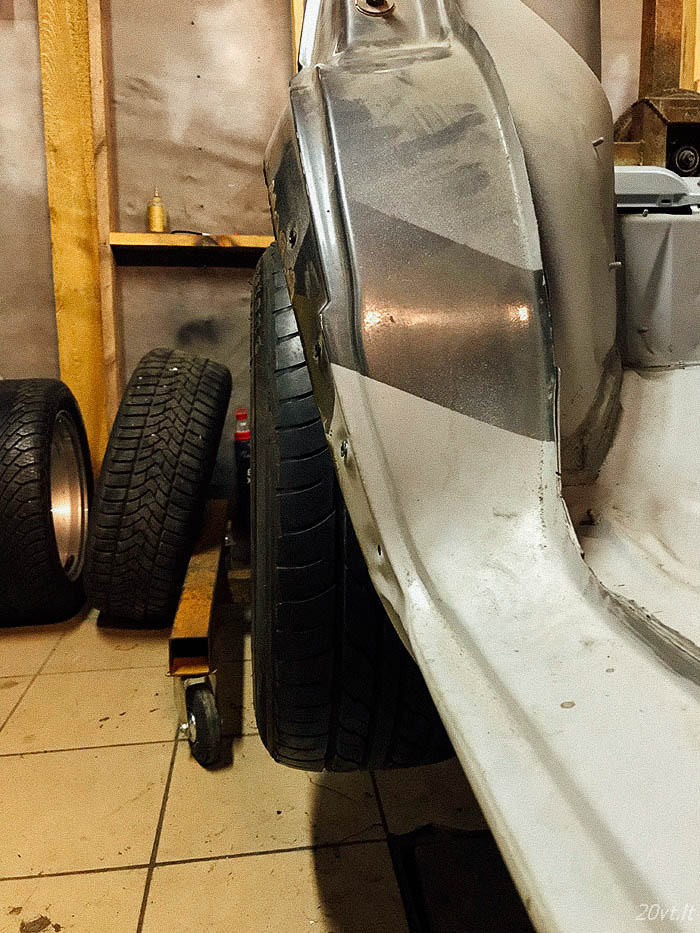 Front brakes in place: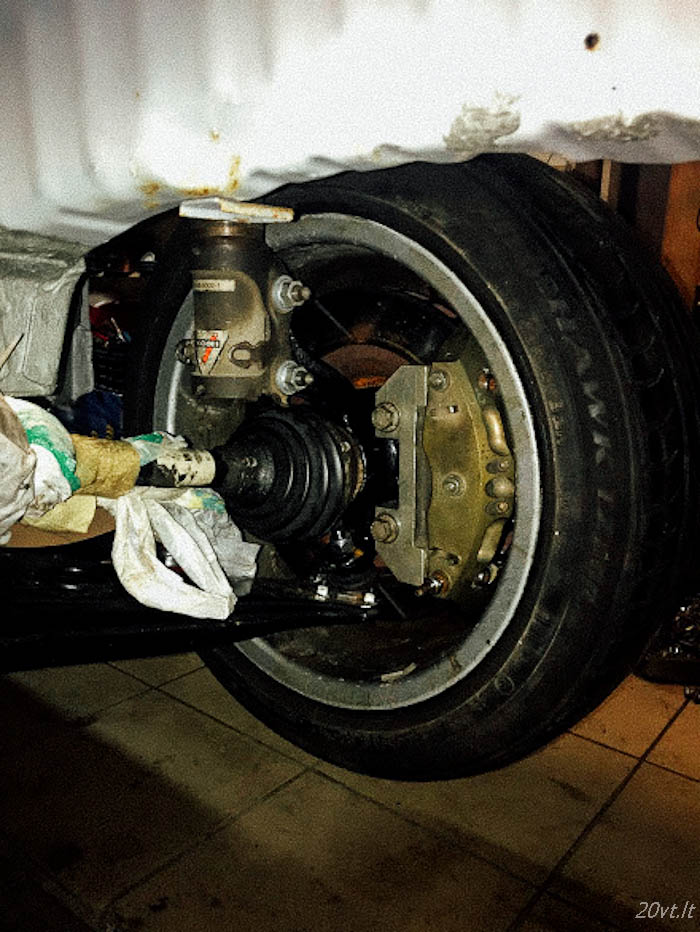 And... car stands on it's own wheels!!!!